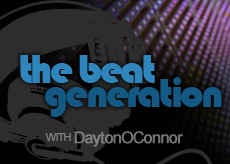 Consider this a companion piece to the side project one we ran a few weeks ago. While we had previously examined the phenomenon of musicians genre hopping to escape the "drudgery" of their day "job" (see what I did there?) we're going to switch focus a little bit in this week's edition of The Beat Generation. Many DJs and producers are solo acts. Not that they create in a vaccuum: electronic music and especially dance music possess a special character about them"with rave and festival attendance so large, there is an undeniable communal atmosphere. Then again, who hasn't felt lost or alone in a crowded room? Woo, got a little bit emo there for a second. The point we were trying to make was that while electronic music celebrates the achievement of the individual it also possess a unique spirit of cohesion and collaboration. Here's a look at some of our favorite electronic collaborations of the past few years.
Swedish House Mafia
Not really sure what the ground rules for supergroups in electronic music are. This probably benefits Sewdish House Mafia because if there ever was a true dance supergroup, these guys would be it. Their pedigree speaks for itself. What other group counts all of their members as within the Top 20 of DJ Mag's Top 100 DJs in 2010? If that wasn't enough to make 2010 a big year for the trio of Axwell, Sebastian Ingrosso and Steve Angello, they also had won Progressive House Song of the Year on Beatport for their big crossover hit "One" which you can check out the video for below.
Magnetic Man
We keep talking about Benga and Skream in The Beat Generation and there's a reason for that. I'll make it clear: if you're enjoying or have ever enjoyed listening to dubstep at any point in your life, you have these guys to thank for that. Benga and Skream have collaborated together in the past, and with the addition of fellow producer Artwork they formed the group Magnetic Man. The results of this coalition of the dubby is probably a lot more approachable then many might have expected. The material tends be less claustrophobic and more blissed out and anthemic (literately, they have a song called "Anthemic"). Case in point: single "Perfect Strangers" features the typical sub bass of a UK dubstep production. However, it's swallowed up by the drum break and the swirling pop vocals from rising UK singer Katy B. You can check out the video for the track below.
Fred Falke and Alan Braxe
We're including these guys in here for historical importance. Not to say that Falke and Braxe would ever amount to anything as paltry as footnote. Falke and Braxe, along with Mr. Ozio, Daft Punk and Busy P, laid the foundations for the growth and popularity of the music we term today as electro house. Falke has been prolific on his own in recent years, churning out oodles of remixes for artists like Kele, Robyn, Ke$ha, U2, Marina and the Diamonds and La Roux, to name a few. However, there's something about the chemistry between the two producers that can't be matched. "Rubicon" might be their most enduring contribution; a parisian synth workout which builds upon itself until culminating in an absolutely dirty guitar solo. Dance music would do well to have more guitar solos.