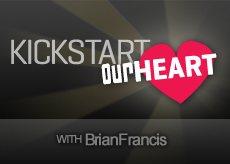 Music has been a powerful form of expression during political and social change for centuries"we're talking about you, Bob Dylan, Bob Marley and Woody Guthrie. We like that. Everyone has an opinion and what better way to voice it than our common language? That's where Jef Stott comes into play. This San Francisco producer wants to "humanize" the changes in the Middle East through music. He is planning an open-genre compilation album featuring artists from Egypt, Tunisia and other Middle Eastern countries. The album will be released alongside a series of short documentaries about the artists, their creative process and their different points of view.
Music is contagious, but sometimes a little cash infusion doesn't hurt to get it to the public's ear. A large chunk of the money raised will be for Stott's costs with traveling, recording and mixing, with some spent on up-front payments to the artists. He plans on doing most of the recording in the streets and homes of Cairo, Egypt and then mixing them back in San Francisco. The best part: all profits will be shared evenly with the artists involved. But enough about the details, just watch the video:
Jef Stott is an easy guy to get behind and support. Besides having a degree in cultural anthropology and some serious connections in the industry, he's also an accomplished Middle Eastern musician himself. As he aptly put: "It seems extremely timely and important that the artistic expression of post revolution Arabic culture is documented at this time." We couldn't agree more.