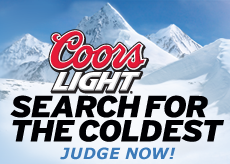 The search for The Coldest is heating up and there's only a few days left to help lock in the Top 100 artists. Judging is critical now more than ever, and for your hard work and perseverance, Coors has a little prizing in store.
Rank your favorite artist by May 15, 2011 and you could win one of four daily sweepstakes prizes including a pair of Sony headphones, an MP3 player, a t-shirt and a free MP3 download! Five fan Grand Prize Winners will also receive an all-expenses-paid trip to the Essence Music Festival in July. Who knew that helping your favorite artist score their big break would come with such awesome prizes? For a sneak peak at some of the hottest artists in the competition, check out the playlist below.
Artists: Don't forget to rally your fans to help through Facebook and Twitter. Tagging OurStage in your posts and tweets will help your message reach wider audiences and give you a better shot at the top.