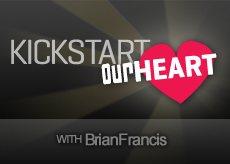 It's a shame to see a hardworking and highly anticipated group get held back by a silly thing like money. But hey, that's why we've got Kickstarter.  Diverse Pop Group is an exciting pop duo armed with increasing momentum and an astounding résumé, and yet no album to show for their efforts. Their three track EP, Diverse, was a big hit among their fans, but now they're ready to move on to bigger things. Members Zach (seventeen) and Eddie (eighteen) are trying to raise four thousand dollars for their first full length album, and with your help we can give them a boost.
These boys sure have been busy over the last couple years. They've worked in the studio with legendary producer Eddie Galan (best known for his work with High School Musical and The Backstreet Boys) and have co-written songs with Galan and his team as well. They were finalists in the Six Flags National Talent Search, sponsored by Jive Records, and they opened for the Plain White T's at McGuire Air Force Base. There's more, too: Diverse was nominated for Best Pop Artist of the Year by three different Internet radio channels and two of their tracks have topped the charts at tweenpopradio.com. It's no surprise that Zach and Eddie are building a buzz. With a background in acting and dance, they've mastered the skills of swaying a crowd with personality and being comfortable on stage.
Diverse will be kicking off the summer with a performance at The Indie Music Fest in Las Vegas, tomorrow in fact, followed by a busy couple of months touring. They are committed to their craft and are clearly willing to give this album all they've got with the proper funding. Check out their video for "When The Beat Drops" below and visit their profile on OurStage!