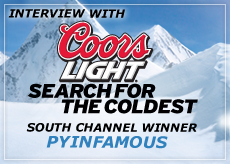 Mississippi's own PyInfamous won big this May thanks to the "Coors Light Search for the Coldest" Competition. With the effortless rhymes and chilled-out horns on his track "Bliss (Cooler Than This)," PyInfamous took the competition's South Channel and earned an opening slot for hip hop heavyweights N.E.R.D. and PacDiv when their tour rolled through Atlanta. We caught up with PyInfamous after his performance to talk about the show, the song and his plans for winning the Grand Prize"a performance at ESSENCE® Music Festival in New Orleans!
OS: Why did you decide that Bliss (Cooler Than This) was the right song for you to enter in the "Coors Light Search for the Coldest" South Channel?
PI: The Bliss record has a universal feel to it. My homie Colin Dunbar from Canada did the beat, which is outstanding, and when Kerry Thomas came up with the singing piece on the hook, I knew it was phenomenal. The record had been done for a while, so I thought that I would see what everyone else thought about it, plus it seemed to work well with the theme of the contest.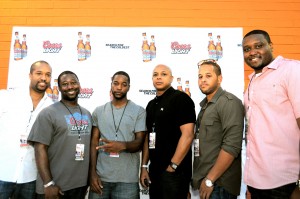 OS: What are some ways you promoted the song and encouraged your fans to support it?
PI: Ironically enough, I didn't promote the song at all. I've done well in the past in regular OurStage Channels with several Top 10 finishes, and I never really promoted the songs. Plus, I honestly figured that the type of music I make, being less commercial, wouldn't do well in a national contest like this one, especially since it doesn't sound like anything that's currently getting burn on the radio.
OS: How did you react when you heard that your song was the winner of the South Channel?
PI: I didn't really believe it. It didn't really hit me until I got to Atlanta. I was definitely appreciative of OurStage, the fans, Coors Light and everyone else involved, but it took quite awhile for me to take it all in.
OS: What was the experience of opening for PacDiv and N.E.R.D. like?
PI: It was insane. I've done shows with large crowds before, but nothing with two national acts that were as popular as PacDiv and N.E.R.D. It was almost like I was splitting time being an artist and being a fan. Both PacDiv and N.E.R.D. absolutely killed it. I had never seen Pharrell live, and I was quite surprised by the way he rocked. I also have to shout out the crowd in Atlanta. They rocked extra hard with me, which was definitely a plus. It's always great when the crowd is responsive and having a good time.
I had only heard a little of PacDiv's music, but what I heard was dope. I've been a fan of N.E.R.D.'s music for a while. I appreciate and respect the diversity in their music and their willingness to make the type of music they want to make, regardless of what is trending in the industry.
OS: How did you like playing in Atlanta? Have you played shows there before?
PI: Atlanta was extremely dope. I had rocked there a few years ago at Apache Café, but it's been a while since I've been back to perform. The crowd was tremendous when I was on stage and afterward. I made my way through the crowd and talked to quite a few folks who said they felt the performance, which was good to hear.
OS: What was your favorite part of the experience?
PI: Performing. The best part of music is performing. I love interacting with the crowd"call and response, feeling their energy. There is nothing like it the world. And it's always great when you have a chance to talk to folks after the show one-on-one to hear how they felt about the set.
OS: What are your plans for promoting yourself to earn that Grand Prize"a performance at ESSENCE® Music Festival in New Orleans?
PI: We have a couple of tricks up our sleeve for that, but I don't want to ruin it for the fans. We will use a mix of traditional and nontraditional marketing methods though, all of which will be focused on engaging fans on a high level.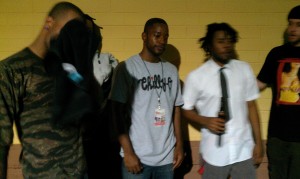 OS: What kind of impact do you think this will have on your career?
PI: That's an interesting question. I don't really know. I have seen other artists win contests and nothing happen, so I can't say. I just plan to enjoy the moment and do everything I can to pull out a win. Whatever happens, I still plan to give the fans great music and great live performances, wherever those shows are.
OS: Any shout outs for the fans who voted for Bliss (Cooler Than This)?
PI: I would like to shout out to everyone who voted for the record and want to ask for your support again when voting resumes. I definitely want to shout out to the judges for selecting the record and all the folks who came out to the show in Atlanta or watched it on Ustream. We're almost there! We just have to push toward the finish!
Check out highlights from the Atlanta show featuring PyInfamous, N.E.R.D. and PacDiv below and don't forget to support your favorite artist when the Grand Prize judging begins June 10th!