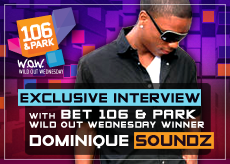 The BET 106 & Park's "Wild Out Wednesday" Competition came to rest in May, and winner Dominique Soundz secured the prize with his hard work and unadulterated talent. The competition was stiff, with over 800 male R&B entries, but he climbed up the ranks, clinched a spot in the Top 20 and won the judges over with his track "Messing Up The Bedroom." The prize was no small potatoes either: an opportunity to face off against two other artists in the June 1, 2011 episode of the 106 & Park's "Wild Out Wednesday" Competition for a myriad of prizes. This is a big deal for any aspiring musician, with a chance to make an impression, bolster their bio and collect some new fans in the process. We had a chance to talk to Dominique about his experience on the show. Read on!
OS: 106 & Park's "Wild Out Wednesday" is a pretty big deal. How did you feel going into the show?
DS: I was very nervous, but excited at the same time! I knew millions would be watching and I couldn't believe that this was actually happening. I watch it all the time and then to be on it was a dream come true!
OS: How do you think your performance went overall?
DS: I think my performance was great! I had background dancers, we wore matching colors…it was a great show.
OS: Did the live audience on set help you get into the right mindset?
DS: The audience was great and very supportive. And it didn't hurt to have the "applause" sign [laughs].
OS: Did you have a chance to meet any of the other artists performing on the show?
DS: Yes, I met the other artists. Very cool brothers¦very talented.
OS: In your bio, you mention that you've performed in some of LA's top night spots. How did this compare to those shows?
DS: I performed for tens/hundreds of people locally. I know 106 & Park is watched by a lot of people, but my performances only helped prepare me for something of this magnitude. Still, I was nervous.
OS: Do you think this might open up some doors for you in the future?
DS: I hope so. I have already been receiving calls from managers, producers and other artists that want to work with me. I'm just hoping to take my music to the next level. Also, Twitter, Facebook and YouTube hits have increased.
OS: What was your reaction when the judges selected you out of the Top 20 artists in the competition? Are there any family, friends or fans you'd like to give a shout-out to or thank?
DS: I was shocked and then, very happy. It made me feel good to know somebody chose me because of my music, video or just the talent they saw in me. And I do have a few shout-outs. God, my family, especially my mother and father who are my managers. Pat Charles for selecting me, my fans and last, but not least¦OurStage.  You guys have great competitions for artists. They're real and I appreciate the opportunities you provide for us artists. Much love to you.
Check out Dominique's performance on 106 & Park below and be sure to hit up more of his tracks on his OurStage profile.