It's a passion like no other.  It's a drive like nothing you've ever seen.
For an aspiring artist, the road to stardom is paved with big dreams, big sacrifice and big letdowns.  The very nature of the music business breeds dishonesty, greed and broken promises. In a world where talent doesn't ensure a thing, and opportunities seem few and far between, I have to wonder what life looks like for artists before we start watching? And how, after the hundreds of horror stories of the evils of this industry, do these artist continue their fight for fame?  How do they persevere through the pitfalls without losing faith? A case study on the subject with a particularly poised  up and comer should provide a clearer picture.
Keaira LaShae knows a thing or two about the music business. At twenty-four, she's been at it for ten years. Born in Tampa, Florida, La Shae began singing in the church across the street from her home at an early age, discovering her knack for entertainment after winning a local competition at seven, beating out competitors twice her age. At fourteen, she formed a group with two middle school classmates.  The trio got noticed at a regional competition for Showtime At The Apollo and was introduced to their future manger, M.  After replacing one member with younger sister, Ceaira, and renaming themselves Diversity 3, the girls were flown out to Los Angeles for an in-home audition for an industry insider. He was impressed, and told them to write three songs in an hour, which he then shopped to various record labels.  What resulted was an all-out bidding war, with Sony Music inking a $4 million deal with the group.  Like so many others, the deal fell through, with the middle man taking more than his ˜cut' of the profits. We were crushed, recalls LaShae.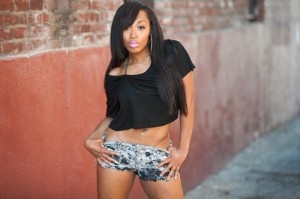 Despite the blow, the girls decided to keep the momentum going by executing a two-hour production on their own.  They [the labels] knew about us, and I knew that wasn't our only shot, she recalls. The girls worked ˜round the clock on everything from musical arrangements to choreography; making posters, securing a venue, hiring a DJ and selling tickets.  We sang the national anthem during morning announcements at every school in Hillsborough County.  We sang at malls, in the food court, on the street, at nail salons, anywhere someone would listen.  When the big night came, lines formed down the street and around the building, forcing the doorman to turn people away after they exceeded capacity. Representatives from Virgin Records were in the crowd, and within days of the show, the group was flown to New York for a showcase for the label's president.  After a successful fifteen-minute showcase, one group member blew their chances by getting sassy with an executive. LaShae had reached her limit.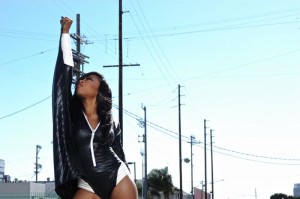 The unwavering support of her mother proved a powerful weapon in LaShae's fight. I never wanted to quit. My mom always told me I could do anything I wanted, she says. She believed in me when I didn't believe in myself. Although she didn't know much about the music industry, LaShae's mother did her research and remains a steadying force in her daughter's career.  She read Everything You Need To Know About The Music Business from cover to cover.  Still, she had her reservations.  As a teenager, LaShae had a fake I.D. so she could perform in clubs she was too young to be in. Growing up too quickly comes with the territory, complete with pressure from producers and executives to prove yourself through less than honorable means.  It gets ridiculous.  I've had label execs try to sleep with my mother. I've had A&R's ask me for ˜meetings' at midnight over drinks.  "It's like, ˜Damn.  Do I have to sleep with somebody to get a record deal?' No. Over time, LaShae thickened her skin with the help of her mother, who encouraged her to keep going, and assured her that good people do exist, and not everyone would let her down. You learn to observe people.  To do your own research. You don't waste your time on people you think will screw you over.
At seventeen, she moved to San Antonio, TX for a fresh start at a solo career. Always supportive, her mom followed her to Texas, settling in Houston.  Inspired by her new surroundings, LaShae honed in on the rich culture of San Antonio, learning to sing and write in Spanish for the Selena-loving crowds there. I didn't know how much Selena meant to Texas.  I knew I had to do her songs justice, I had to connect to that emotion for them.  Her renditions of No Me Queda Mas and Amor Prohibido brought people to tears, and she became affectionately known as the Black Selena constantly booking shows and performing regularly at the annual, ten-day Fiesta festival. She wrote and recorded a Spanish album, only to have the material stolen by a supposed friend who was working on a licensing deal for the project.  Down again, but never out, she earned her cosmetology license and worked as a hairdresser to support herself, and taught hip hop at a local dance studio.  After she developed a following for her unique style and made a killing choreographing routines for quinceañeras, she opened her own dance studio, Street Beatz.  The studio filled another creative need for LaShae, who offered scholarships to kids who did well in school, but couldn't afford dance classes.
Under pressure from her manager, M, LaShae changed direction and reluctantly released a slew of sexually charged singles as Mystere. They landed high on the charts, and music videos for the songs were in heavy rotation on BET's Uncut, with one particularly raunchy release, Nasty becoming the Number 1 requested video. Despite the commercial success of the songs, LaShae was as unhappy as ever.  They [management] said, sing like this, dance like this and it will work.  And it did, she says. ˜But it wasn't me. I knew I had to get out of this.  It isn't working for me.  I'm not happy.  Tired of promoting records she didn't believe in, and refusing to perform songs that went against her better judgment, LaShae made her exit and severed ties with M for good. I had to step up and say, ˜I'm gonna do me'.  That's been the best decision of my life.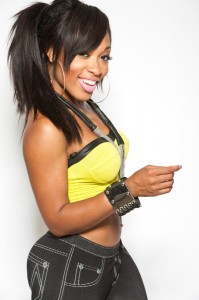 Now, under the guidance of her hand-picked team that includes former Street Beatz instructors, Sabrina and Daniela, LaShae is pursuing her music career on her own terms.  I'm more confident in who I am because this is who I want to be. Last year, she landed in Las Vegas, where she currently resides, after a three-week trip to Los Angeles to train with Debbie Reynolds turned into an extended stay on the West Coast. She linked up with powerhouse producer, Mally Mall and impressed him with her songwriting.  The music mogul asked her to write for his Future Music camp, which includes mega-producers The Audibles, Jason Poo Bear Boyd and King David. Finally in a safe, creative space, she found herself penning songs for R&B's leading ladies, only to realize the songs were perfect for her.  I wrote ˜Love Junkie' for Jazmine Sullivan, she admits. ˜Superhero' could be perfect to sell to Ciara, but it's mine.
Armed with an arsenal of new music and some hard-earned lessons, it seems Keaira's big break is on the horizon. While she still sleeps with her notebook to record 'random dream lyrics' at 3am, her side hustles have come a long way from days of waitressing in strip clubs and doing hair.  She's a professional dancer with MSA Talent Agency, touring or shooting videos with the likes of Pitbull, N.E.R.D. and Cali Swagg District between studio sessions. Aside from supplementing her income, her dancing gigs give her a first-hand look at her not-too-distant future. Her latest work is radio ready, with insightful lyrics and catchy melodies drawing you in, forcing you to move your feet.  Nelly thinks I'm dope, she coyly admits while prepping for a solo performance at LA's infamous Whiskey A Go Go.
She delivers a flawless seven-song set including her latest Duane "DaRock" Ramos-produced singles, Superwoman and Love Junkie complete with elaborate choreography to a thoroughly captivated, rock-minded crowd. It's clear I'm watching a star.  Afterwards, I ask how she does it so effortlessly, after a drive in from Vegas on three hours of sleep. If I want to be the best, then I have to act like it.
The fact is LaShae's remarkable journey through the music business is fascinating, but not unique.  For every amazing talent we hear on the radio or see on television; there are hundreds of thousands of incredible, working artists, waiting for their chance to shine through the clouds.  The fact is, there is no solid formula, no road map to navigate the music world, and despite the talent, hard work and spark that is evident in LaShae,  her career is still a gamble. All things considered, my money's on Keaira.
You can check her out right here on OurStage. Singles available now on iTunes.
Check out Keaira's video for "Love Junkie" below.