pubished by
kateb
on
July 29th 2011

The Good
Bjí¶rk releases Michel Gondry-directed video for Crystalline
Biophilia, Bjí¶rk's eighth LP and first app album, isn't descending upon planet Earth until September, but the artist is keeping fans happy by releasing a series of iPad apps for each track. If it's all too futuristic for you, don't despair. The Icelandic singer/composer also released a good old-fashioned music video for her cosmic single Crystalline, directed by Michel Gondry. Check out the intergalactic splendor below.
Jay-Z and Kanye West announce new name, release first track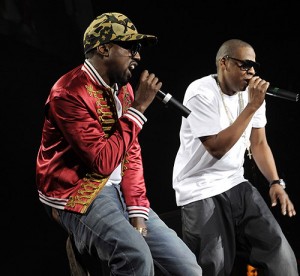 Don't call them Jay-Z and Kanye West. Don't you dare. They go by The Throne now, and The Throne just released the first track off their upcoming collaboration, Watch The Throne. It's called Otis, and it's pretty much just Otis Redding's Try A Little Tenderness with The Throne taking turns spitting lyrics over top. Decide whether it's cool or convoluted by listening to it on Jay-Z's Life + Times blog.
The Bad
Amy Winehouse laid to rest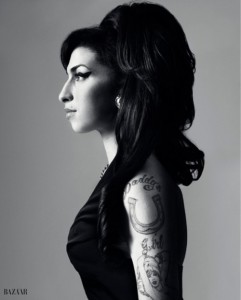 What a week. Amy Winehouse was found dead in her London apartment last Saturday. The soul singer was 27"an unlucky age for musicians. After her autopsy proved to be inconclusive, Winehouse was laid to rest in London on Tuesday. Her funeral was attended by celebrities like Kelly Osbourne and Mark Ronson, who produced Winehouse's GRAMMY-winning breakthrough album, Back to Black. In the days since her passing, musicians ranging from Rihanna to Katy Perry and George Michael have expressed their shock and grief. M.I.A. paid tribute to Winehouse with the release of 27, which you can listen to here. We're posting the video of Winehouse's last public appearance, just days before her death, which shows her happily dancing along to her goddaughter Dionne Bromfield's performance of Mama Said. She was a tornado in a beehive, a rare talent whose demons cast a long shadow over her life, but never over her legacy. R.I.P., Amy.
Anthony Kiedis in tears over Justin Bieber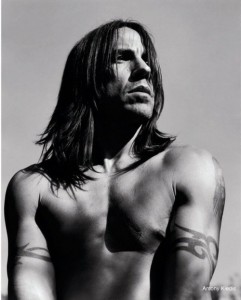 Anthony Kiedis has dealt with addiction, a father who was a drug dealer, and the loss of his best friend to heroin, but none of that has hardened him to the point where the image of a teenage girl crying over Justin Bieber doesn't reduce him to tears. In an interview with Q Magazine he admits to getting misty over parts of the Bieber documentary Never Say Never. It seems the power of Bieber compels even a Red Hot Chili Pepper. All hail.
The Ugly
Justin Bieber and his dad get matching tattoos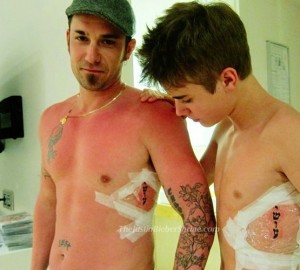 What's more disturbing"Justin Bieber opting for a matching tattoo with his dad, Justin Bieber's dad opting for a matching tattoo with his son, or the fact that the elder Bieber doesn't wear sunblock but does wear a soul patch and a gold chain. Trick question"it's all disturbing.
Mariah Carey unleashes the diva on HSN
Mariah Carey's first public appearance after having twins and giving them silly names was this little visit to HSN studios to hock her clothing and accessories lines. Mimi's megalomania and micromanagement sends the show off the rails. If she sold one pair of earrings after using her allotted time to ramble on about swollen pregnancy feet and her stretched out body, we will be shocked, dahling.
Miscellany
Wolfmother's Andrew Stockdale fined for drunk and disorderly conduct
Are Marcus Mumford and Carey Mulligan engaged?
Bob Dylan's grandson, Pablo Dylan, launches hip-hop career
Lauryn Hill gives birth to sixth child
Gene Simmons proposes to longtime girlfriend Shannon Tweed
Phil Collins doesn't like music
Dan Peek, founding member of America, dead at 60
Adam Levine and Stevie Nicks perform Leather and Lace at Hollywood Bowl
Kelly Rowland to star on A&E miniseries, Bag of Bones
Feist to release new album "Metals on Oct. 4
Nicky Minaj fined for sailor mouth in Jamaica
Kathy Griffin sings S&M