Eric Church has never been one to keep his mouth closed. He prides himself on speaking his mind, no matter what. And in the past, this trait has cost him quite a bit. Back in 2006, he was kicked off the Rascal Flatts tour for playing longer and louder than he was allowed, which caused the headliner to start late and violated the rules of the venue. Additionally, he dealt with a great deal of backlash after his song, "Two Pink Lines" was released. Fans didn't like the fact that the song seemed so relaxed on the topic of teenage pregnancy.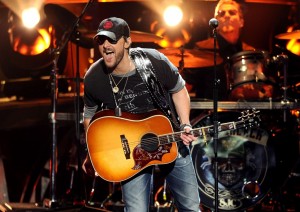 But controversy has never stopped Church. After being kicked off the Rascal Flatts tour, instead of going home, he followed the tour for eight stops, playing free shows at clubs and bars for his fans. As he said in an interview, "We did it because we said we would. It's a great thing to come and say, 'Hey, man, we got fired from across the street, but we said we were coming, so we're here anyway'". And because of his perseverance, and his fun and exciting live shows, he has cultivated a strong fan base. These fans care about what Church has to say, and they have been eagerly anticipating his new record, Chief, for some time.
The album, which was released on July 26th, stays very true to the outspoken, wild Church that his fans have grown to love. With songs like "Jack Daniels" and "I'm Getting Stoned" he shows that he is willing to tell the real story, not skim over the tough parts. Chief is a hit because it is made up of well-crafted songs with a lot of attitude. As he will tell you, "I'm a guy who's going to tell you what I think. I'm going to rub you the wrong way". But somehow this works for him. Now that nobody is expecting him to hold back or keep his opinions to himself, he is able to make the kind of music he's always wanted to. And the music is phenomenal, which explains why the album just hit Number 1 on the Billboard 200.
Watch the video for his hit single "Homeboy" below.