How do you like your country music? Served with a spice of pop-rock goodness? Perfect, because that's just what WYATT brings to the table. The Saskatoon four-piece won the "Capital Hoedown Showdown" Competition Grand Prize in May and recently rocked the festival main stage alongside Rascal Flatts, Miranda Lambert, Carrie Underwood, Kenny Chesney and more.
From get-go the group was treated to the superstar lifestyle, complete with VIP festival passes, baller hotel room, personal driver and more. During their performance, the audience of thousands devoured every minute of their set  igniting sing-alongs and cheering loudly throughout. Afterwards  they were escorted by security to a meet and greet, their only line of defense from masses of eager fans demanding pictures and autographs.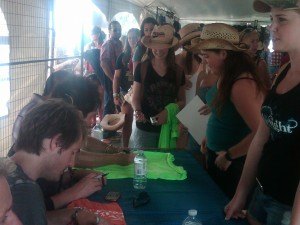 For the full performance of their winning song "Ride On" and more, check out the video below.