Social media is incredibly powerful. In Egypt, Facebook was used to help topple a totalitarian regime. Flickr has been an effective tool for UK police in tracking down and apprehending looters during the recent riots. And here in America, Twitter's primary function has been used to bring the ruckus. Electronic producer Kaskade accidentally incited a small riot in downtown Los Angeles with a single tweet. And we all saw what happened when rapper The Game grappled directly with the LAPD over the Internets.
Rapper Machine Gun Kelly must've been taking notes from Kaskade when he pulled off a mini-riot of his own, this one a flash mob of the Ohio-based rapper's fans. Kelly wanted to do something a little special to mark his return to his beloved Cleveland. Over the course of a day's worth of tweets, Kelly instructed his fans not to do anything until they heard "Cleveland" and to prepare for the event by wearing their best "#powerRAGER" outfits. You can see the flash mob in it's entirety below.
So another flash mob in the books, guys. For his trouble, Kelly gets cuffed, slapped with a $230 fine and a ton of free publicity. It also allowed a young man who looks like this to come off as somewhat threatening.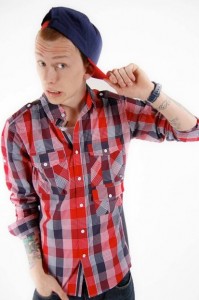 It's amazing to see what one can do with 70,000+ Twitter followers. At least Kelly making flash mobs cool again, in a quasi-legal fashion to boot. It doesn't sound like anybody got hurt except those who had their shopping day ruined by a bunch of gosh-darned kids. Finally, and most importantly, Kelly has taken his arrest and made it part of his persona, a modern update on the criminal gangsta image.
In the past, during the heyday of '90s gansta and mafioso rap, you had to be hard if you wanted to make it in the game. Get shot at a couple of times, allegedly hang somebody out of a window, appear to have a side job as a drug dealer. One's image had to be authentic. However, in the aughts, rap and hip hop got off the streets and made a beeline for the clubs. The game has changed and everyone knows it. As of late, rappers have been are getting arrested lately for decidedly less glamorous crimes then before, from Big Boi's recent arrest in Miami to DMX's ever-growing criminal record. Even the Game got in trouble just last week on a possible assault. But these rap sheets aren't celebrated like they used to be. The tension between the old school and the new school of hip-hop is well documented"call it hash tags versus gun claps. For example, check out Ghostface Killah's many blog posts on rapper Drake and his music. But Machine Gun Kelly isn't a Drake or a Trey Songz or J. Cole. He needs a bit of street cred. Besides, the flash mob definitely got him more looks then any beef and spares him any potential embarrassment (Game, Lil B, Jay-Z and Lil Wayne, please take note). What's a more fun, tech savvy and audience-inclusive method of getting attention then a home town flash mob? Kudos to him for finding a way to burnish his image through thoroughly modern methods.