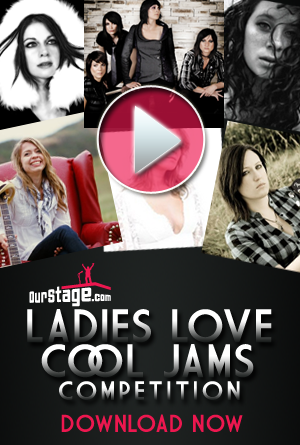 Long gone are the days that women sit back and let men have all the fun. So far gone, in fact, that last month we decided to let the men sit back and watch as the women show off their stuff. And boy have we been impressed! The "Ladies Love Cool Jams" Competition"for pop, rock, hip hop and rap artists"has surfaced some incredible female talent. And now we want to give you the opportunity to get as hooked on these sensational ladies as we are!
1. Anna Soltys and the Familiar's "Little Bug" is an eerie, yet upbeat indie pop song that shows off Anna's cool vocal stylings over layers of unique arrangements.
2. Kaleigh Baker's "Sugardaddy" is an incredible blues-rock song that shows what a force to be reckoned with she. From start to finish, Baker impresses us with her vocal range and attitude.
3. Kate Tucker's "Roman Candles" showcases Kate's hauntingly lovely voice, while at the same time impresses us lyrically.
4. Lyric's "Death of a Poet" is simple and acoustically-based, yet delivers a literary-inspired treat for hip hop fans that is incredibly powerful.
5. Mad June, Montreal's own all-female foursome gives you "November" a song that takes a stand against discrimination, and yet has a hopeful, upbeat feel to it.
6. Alt Rock group, The Chloes, amp it up their song "Crash This Party" which does a great job of showcasing the talent of all four ladies in an authentic way.
7. Another fun tune is Waiting to Run's "Lovesick (feat. The Poets Dance)", which has a beat that makes you wanna get right up and dance.
8. "Best of Me""by singer-songwriter Sara Lindsay"is an upbeat song that puts a smile on our faces. Sara's voice and positive attitude about life shine through.
Download the entire playlist here for free, and we guarantee you'll see why we're raving about these lovely ladies!