iHeartRadio is all about well…radio, and taking it to the next level. Not only does the site allow you to live stream talk and music radio stations locally and nationally, it also enables you to create your own custom stations based on your musical tastes. This past weekend, iHeartRadio went all out to promote their new and improved Web site, along with the launch of the iHeartRadio mobile app that grants users listening access from their phones. For the launch, they put on a giant, star-studded festival in Las Vegas, which sold out about ten minutes after tickets were made available. The theme of the night was very much focused on the diversity and popularity of the festival's artists.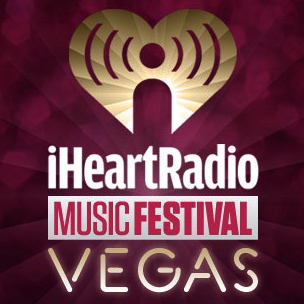 For the majority of fans who weren't able to get a ticket or make their way to Vegas, iHeartRadio streamed the entire two-night event on their Web site. Here at Live Wired, we were part of that majority, and since we've been talking so much about streaming festivals online, we're here to tell you what it was like. The evening kicked off with a half-hour "pre-show" hosted by two personalities from NYC's popular radio station z100, followed by the first performance of the night. The Black Eyed Peas, who apparently are not on their hiatus yet, took the stage first and were pretty underwhelming. Not that they're exactly known for their live shows (See: this year's Super Bowl performance), but the audience didn't seem too entertained either.
One of the advantages of watching any live feed is getting to see the crowd reactions. And maybe it's because the festival was indoors and more of a really long, weekend-long concert, but the attendees seemed relatively quiet and subdued. But then again, it's impossible to really understand and feel the vibe of a live concert when you're watching through your computer screen. You don't have people surrounding you who share the same excited energy for their favorite acts to hit the stage. Even if the crowd doesn't seem as into it as you'd expect, there's no way of knowing unless you're there (which is why we're also bringing you a first-hand experience here)
Kelly Clarkson put the night on a better track with her incredible voice and mostly upbeat, sing-along ready songs that the audience participated in; you could hear them get louder and louder as they recited the words. She danced around the stage barefoot and treated us with tunes like "Since U Been Gone" and her latest single, "Mr. Know It All". The first night was also filled with lots of love for Amy Winehouse. Bruno Mars performed his cover of "Valerie", which he premiered during the VMA's Winehouse tribute, and Coldplay covered her biggest hit, "Rehab". Both performances were big crowd pleasers.
One of the coolest features of the live stream besides actually getting to see the show, was all of the interviews and behind the scenes looks from all of the artists. They reflected on their fellow performers and on the concept of the night itself. Coldplay, who are releasing their new album Mylo Xyloto later this month, revealed how nervous they were to work with Rihanna on one of the songs. Frontman Chris Martin joked, "we were scared to talk to beautiful girls when we were kids and we still are". Even though viewers weren't able to be there and see their favorite artists in person, the live stream provided us with lots of extras that at least made us feel closer to the action!
You can explore the new iHeartRadio and check out more big-name interviews here!