Caitlin Rose doesn't shy away from talking about her famous mother, as some second-generation music insiders do.
Rose's mother Liz Rose is legendary in Nashville songwriter circles for penning many hits including "You Belong to Me," which won Taylor Swift a GRAMMY in 2010, Swift's break out single "Tim McGraw" and plenty of hits for everyone from Tim McGraw to Bonnie Raitt and Trisha Yearwood. Twenty-four-year-old Caitlin makes no effort to hide her admiration for her mother but also makes it clear she's carving her own path.
"If I was in the family business I'd be making a lot more money," said Rose, whose father also works on Nashville's legendary Music Row. "My mother is wonderful but it is so funny when people kind of compare our careers. She works in a very big world. She's in a place where people win GRAMMY's and that's great. I am on a much lower tier as a traveling musician writing and playing my own songs."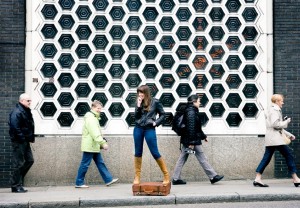 Although she may not be a Grammy Award contender"yet, anyway"Rose's songs have caught the attention of plenty of music critics including those at such prestigious outlets as Q, NoDepression and NPR. The songs on her debut album Own Side Now, which was released September 27 by her label ATO Records, has drawn comparisons to everyone from Linda Ronstadt to Stevie Nicks.
Just before she headed out on a national tour in support of Justin Townes Earle and Hayes Carll, Rose reflected on how a bad break up led her to write the songs on the album.
"He did me a favor," she said of her former love. "I was talking about that recently, and I made the joke that you need to get dumped to be a songwriter. I'm not even joking when I say I owe him one."
Fair enough, since the album is what led her to the coveted record deal and won her the critical and popular acclaim. Yet Rose isn't one of those songwriters who necessarily needs heartache to spur her creativity. She's proving that now as she continues to write for her next release, using songs to talk about her life and channel other people's worlds.
Her style, she said, may be influenced by her mother's but it's quite different.
"I know everything she writes, and it's great. I know her style and I know my style and I have it in my head that the two will never mix. [I wouldn't try to write with her] because I'm always apprehensive about going into a situation and having anyone come out uncomfortable," she said, before pausing to reflect. "That sounds like something I should work on."
For now, though, Rose is working on her set list for the upcoming shows and ready to grab as many fans' ears as possible. So just how does she calm her nerves before she faces big-time audiences?
"I curl my hair," she said. "I was born with impossibly straight hair. It's so straight that even if I curl it, it falls down. But before shows I have to be away from everyone. When you are curling your hair, t he guys will go off and do something else. Then you can be alone, just curling your hair.
For more information about Caitlin Rose including her tour dates and new album, check her Web site.