Remember all those bands you used to hear play at college? The ones people always said would make it someday? Sure, most didn't hit it big, but here's one that did. The members of Eli Young Band met at the University of North Texas in Denton, where all of them were students. After building a strong local fan base, they began to tour regionally and haven't slowed down since. "Crazy Girl," the first single from their new album Life At Best has been climbing the Billboard and iTunes Country Singles charts, and the band has performed on Jimmy Kimmel Live and The Tonight Show with Jay Leno.  Despite the group's busy schedule, drummer Chris Thompson sat down with us to talk about the band members' diverse influences, their favorite cover tunes and the one venue in Denton that's been a permanent fixture in the band's history.
OS: Your style incorporates a few different rock genres; some tracks on the new album have a ˜70s rock feel, and some even sound a bit like grunge.  Who are your biggest rock influences?
CT: We were in high school during grunge time and we were playing in bands then, so of course Pearl Jam and those kinds of groups. And then all that classic rock stuff, too. Bands like Aerosmith, and Kiss and Lynyrd Skynyrd. That's all in there. [laughs]
OS: It's cool how those different styles emerge at certain points in your songs.
CT: Well, when we started the band we all came from pretty different musical backgrounds. The rock stuff was one common denominator, but Mike especially was was more into country and didn't know that much about rock. James was a little more into country too. When we started playing together, we would play each other our music and expose each other to different things, and that's really how we started making our sound.
OS: How would you describe the difference between the Denton, Texas college scene where the band began, and the Nashville music scene where you've written and recorded for several years?
CT: That's a good question. Obviously with college everything is a lot more word of mouth and underground. College is a time for exploration and trying to understand and find new things. I think people go through that with music in college too. They try to seek out new types of music and they're a little more open to new sounds. The college audience member typically wants to have a good time [laughs] and wants to get something new, whereas on the Nashville scene it seems like people get comfortable with what they're familiar with. They like hearing things that remind them of other things. It's a little less explorative.
OS: So you'd say that people were receptive to the different kinds of things that you were trying out when you started?
CT: Absolutely. When we started we could try all sorts of things on stage. Some things worked and some things didn't, but the audience never left and it continued to grow.
OS: When you guys were starting up, what was your favorite venue to play back in Denton?
CT: In Denton there's a bar, which I believe is still there, called the R Bar. That's actually the first place we ever played together. Mike and James started doing acoustic sets there at the very beginning, and then Jon and I jumped on stage with them after about a semester of college. Our first time playing together was on that stage, and our first sold-out show was on that stage, so it's a real part of our history.
OS: Crazy Girl was a live fan favorite before you released it as the single from the new EP and album.  What was it like record a song that you had been performing live for so long in a studio environment with no audience?
CT: That's always been a weird balance for us. We try in our live show to be entertaining and energetic and put on a show as opposed to just focusing on every note being perfect. We want there to be a real raw energy in our live show. In the studio you're under the microscope, so every little detail needs to be as perfect as you can make it. I think you have to understand how to get the sound of the energy to come out of your instrument in the studio, as opposed to just performing with the energy that you have live.
OS: Were there certain songs on the album where it was more difficult to capture that live energy in the studio?
CT: Yeah, definitely. Some of the more up-tempo rocking songs on the record were a little harder to fine-tune and tweak to sound heavy in the studio, but I think that we pulled it off. I think that this is the first record where we really came in understanding how to use the studio artistically in a new way. Before, we'd come off the road, go into the studio, and start tracking songs and laying down music. This time, we actually had the experience and the knowledge to utilize the studio environment to get the exact sound that we wanted as opposed to experimenting as much as we've done in the past.
OS: Yeah, there's definitely a different mentality when you're in that environment as opposed to the touring environment.
CT: Absolutely. It's easy to go up on stage and give it your all and go home and know that the audience doesn't remember that one bad snare hit or that flubbed note, but if it's on a record, it's there forever!
OS: You guys also just announced the winner of the Crazy Girl cover contest, which gives the winner the chance to perform the song live with you.  What are some of your personal favorite covers to play?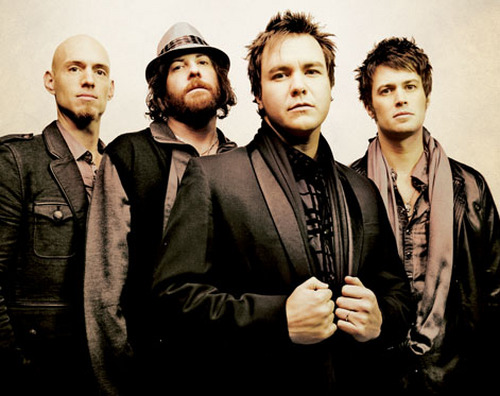 CT: The band's done "Come Together" by The Beatles almost for ten years now. For some reason that song never gets old. That's another Aerosmith influence too, because the version we were shooting for was the Aerosmith cover version. Of course, the Beatles are a huge influence on us. Yeah, I think that's probably the most fun for all of us. It's never the same. Every single time we play that song it's completely different than any other time we've ever played it. I don't know how we do that, but that's just what happens. Right now we're also playing "Gimme Three Steps" by Lynyrd Skynyrd in our set because we recorded that song for a Lynyrd Skynyrd tribute record a little over a year ago. That's always a highlight, and it seems to be a real fan favorite. Then you always get somebody saying, "Play 'Freebird!'" [laughs]
OS: There's a lot of optimism in the lyrics of your songs and even in the double meaning of the album's title itself.  What does Life At Best mean for you in the positive sense?
CT: That comes from a saying that James' grandfather used to say. He was talking about how no matter where you are in your life, even if it's the top, you still have to keep at it. On the positive side, I think that it's a motivating title and that it's a kind of idea that allows you to be happy with where you're at, but also optimistic that there's more.
OS: That makes sense. When I first heard the title track, I wasn't expecting the double meaning of the phrase to appear in the way that it does.
CT: That's a real credit to James specifically. It seems that his songwriting usually has a little double twist in there.
OS: Yeah, it's great! Great tune, and great album as well.
CT: Thank you! Glad you took the time to listen to it! [laughs]
Take a listen to Life At Best, in stores now, and check out Eli Young Band's fall tour dates!