Last Thursday, the stage at the Wilbur Theater was set up with props and decorations, almost as if the audience was there to see a play. Instead, the scene was the backdrop for an acoustic evening with popular folk duo, The Weepies. Embarking on their second tour since taking a three year hiatus, Deb Talan and Steve Tannen took the stage with their acoustic guitars and sat down in two wooden chairs positioned front and center. Various instruments surrounded them, which they would take turns playing throughout the night. Behind them was a curtain with twinkling lights, a simple moon and some stars dangling from the ceiling and a whimsical- looking tree. It was basic enough not to distract from the performance, while also showing off the simple yet magical sound of The Weepies.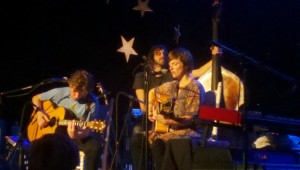 Talan and Tannen weaved together songs from each of their four studio albums into a wonderful setlist, playing for almost two hours. The first part of their set featured songs like "Nobody Knows Me At All" and "I Was Made For Sunny Days", where Deb was primarily responsible for the vocals, with Steve providing wonderful harmonies. The two of them, who are now married with two children, are also a perfect pairing musically. They joked and shared with the audience that when writing new songs, they often fight over who will get to sing them. Instead of going back and forth within one song, they usually feature either Deb or Steve, with the other providing backup vocals.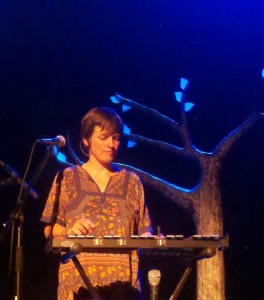 Part way through the set, they stopped to talk about how this tour came together and what it took to get it just right. They explained that their songs started out acoustic, were built up to be recorded for their studio albums, and then had to be stripped back down again. A couple of highlights of their set demonstrated this perfectly. First, they played "San Francisco", originally Steve's song from when he was a solo act, but which was recorded by the duo for a live iTunes EP. For the show, they surprisingly made the song more upbeat and lively, which was clearly reflected in the audience, who couldn't help but move around. On the other hand, they completely stripped down "Be My Thrill" to almost create a whole new song. Deb played the keyboard and sang while Steve soulfully accompanied her with the harmonica. The arrangement highlighted Deb's beautiful voice and the crowd loved how adorable the two are together.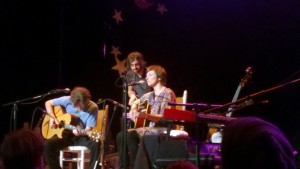 The whole night was just a wonderful and refreshing experience, full of beautiful melodies, quirky instruments, soft yet powerful voices and insightful words. It was different in that the crowd showed their excitement and love for the music by creating a quiet atmosphere, rather than loudly singing along to every song. At any given moment, you could close your eyes and feel like you were alone, being serenaded by your favorite records.
Check out the rest of the dates on this tour!