Jetty Rae is a singer and songwriter originally from Northern Michigan and has been singing, touring and recording since 2004. She released her first full-length album Blackberries in 2007, her first EP Nobody in November 2009 and lullaby album La La Lu and the Lazy Moon in July 2011. Her  latest album, Drowning in Grain (a title referring to being lost in the masses), will be released tomorrow. You can also hear Jetty's voice singing Truvia's jingles on their 2012 television commercials.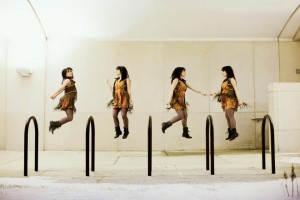 For several years, Jetty has been a force to be reckoned with here on OurStage. She performed in JetBlue'sTerminal 5 after winning the "JetBlue – Live From T5" Competition, was featured in MTVMusic's Needle In The Haystack series and even shared the stage with Sarah McLachlan and Miranda Lambert after winning our Lilith Fair Local Talent Search Competition for the Detroit region.
Jetty was kind enough to send us "Nice Ones," the first track from Drowning in Grain (and its corresponding music video), to share with the OurStage community. You can download the track for free by clicking here and check out the video below. Make sure you also "like" her on Facebook and follow her on Twitter for the latest updates!