Craig Morgan is a tough guy to resist.
If his incredible brand of country music"including past hits such as "That's What I Love About Sunday," "Redneck Yacht Club" and "International Harvester""doesn't lure you in, his charming persona and can-do attitude most certainly will. You'll get a full blast of both during his upcoming tour in support of his just-released studio album This Ole Boy.
Doubters need only read several critics' enthusiastic thumbs up for the album's twelve songs to know that Morgan is on the cusp of some big-time success. You know what's great about that? In a music environment where commerce often comes before art, Morgan has truly landed on the side of art as evidenced by the TLC he has put into his music.
He recently took some time out of his jam-packed schedule to talk with OurStage about changing record labels, crafting his new album and a surprise he received from actress Angie Harmon when she joined him in filming the video for 'This Ole Boy.'
OS: So you recently signed with the Black River Music Group. What options did that offer you when making this album that perhaps you didn't have before?
CM: Nothing that I didn't have a chance to do before. But I did want to make the best product I could possibly make, produce the best record I could produce. I feel like I've not only done that but made the best record I've ever made. I attribute that to the fact that I am on a new label that has [people with a] sense of energy and excitement that I haven't felt in a long time.
OS: How did you go about choosing this label?
CM:  I had meetings [with various labels] and upon completion of all those meetings I felt like this was the label that was best suited for me and my career, just based on what they had [by way of] promotion staff and distribution and resources. I just felt they were best for me and my record and my music.
OS: Is it the people at the label, a renewed sense of energy, excitement about the songs, or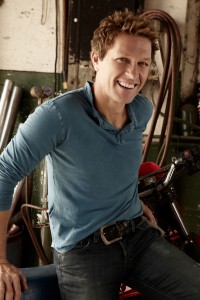 something else that led you to make what I know you've called the best album of your career?
CM: I think all of that and then some. Mainly the energy I took into the studio making the record and the excitement I had. It was comparable to what I felt when I was making my first record. I was so excited to have a record deal and start working on the record and thinking "I am gonna have the music played on the radio!" Anyone who has been in that situation knows how that feels. I had that same excitement [making this, my sixth studio album] and I had the support of this label behind me, knowing they were feeling the way they were and were willing to work as hard as I was. Taking all of that and applying that to some of the best songs I have ever written and ever found. Also, I was well rested when we recorded this record, unlike how I was because of some of the stuff in the past. I don't know if I could have sung any better. I feel real good about the production. I have produced my records [with my creative partner Phil O'Donnell] since I first started. The last couple records, I kind of slid out [of the production duties] because I was so busy. I  said "This time, I'm not gonna do that." I was inside the studio there working. We spent a lot of time with mixes and [other elements], and I think it paid off.
OS: Of the songs you wrote that made it onto this album, did you write them specifically for it?
CM: There are twelve songs total on the album and I wrote, or co-wrote, seven. Every song was written since I recorded my last project.
I never sit down and say "I have to write for this record." Now I have talked to my co-writer, Phil, and said "I need to be writing more. I have a project coming up and I'd like to have something on it." But I never write just for a record. I write because I like to write. I've always been a songwriter; that's always been a big part of my career. I've been fortunate enough that when I started listening to songs and compiling a list of songs [for possible inclusion], when everything was said and done, we collectively agreed on twelve and I had [written] seven of them.
OS: What was it about the song "This Ole Boy" [written by Ben Hayslip, Dallas Davidson and Rhett Atkins] that spoke to you?
CM: I knew when I heard it, knew I wanted to put it on the record. It sounded like I had written it. It was a perfect fit for me. I hate to talk about myself in the third person, but it sounds like a song people would expect to come from Craig Morgan. It's very much in the vein of the music I write. And it felt like a hit song. It's easy for radio to play and it's something our listeners would relate to so it was kind of a no brainer.
OS: I understand wanting to write songs for your own album but there's no shame in Nashville, that's filled with brilliant songwriters, to look to them for songs, too.
CM: Being a writer I have the fortune of writing with some great, great songwriters. When they know I'm about to go in and do a record, even if I am not writing with them, they'll pull songs and say "This song is perfect for you." There's a song on the album [that I cowrote with Shane Minor and Jeffrey Steele] that [the writers said] "This song is perfect for you and if it's not, rewrite it so it is perfect for you."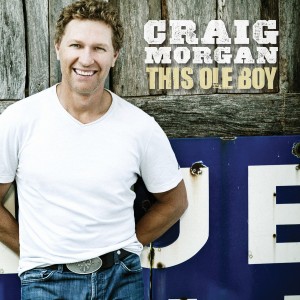 OS: I know this isn't Pink Floyd's Dark Side of the Moon, but when you were creating this record, did you have a theme in mind?
CM: I am never theme driven when making a record. I try to cut hits and I try to hold true to that. When I started working on this record, I said to Phil "Let's listen to all the hit [singles I recorded]"….there were fourteen of them. I said "Let's go write and find songs and make a record that sounds like that."
OS: Everyone's asked you about making the video with Angie Harmon. Is there a moment in there that you're especially proud of?
CM: I don't know how proud I am but it was was extremely flattering for me when Angie kissed me on my head [during the video]. That stands out for sure. You know what stands out most about that video is how personable she is and what a beautiful personality Angie has. I know that seems cliché. It's obvious how gorgeous she is but what people don't know is how sweet and angelic her personality is. I'm really proud to know her and call her a friend.
OS: I see that you joined Charlie Daniels, Montgomery Gentry, Trace Adkins and others who contributed songs to This is the NRA Country, Volume 1. Why did you decide to support that project?
CM: I'm an avid outdoorsman and a huge supporter of our rights and amendments that support our rights. There is no organization that supports the right to bear arms more than the NRA. I also believe in education and safety, and I'm a huge advocate of gun safety. They are as well, so it's nice to be affiliated with them.
OS: So now you have this new album and I bet you've got a new show worked up too. That has to be exciting.
CM: The big thing is the new music. I've always been an advocate of letting music sell itself. I feel like this music will sell itself better than any of the music I ever made. [Still,]  we made a few changes without our band and bumped up our stage set a little bit, and are making every attempt to deliver the best show possible.
OS: How did you change it?
CM: The [new] lights are a big deal. We just want to deliver as big a show as we can possibly deliver, and try to deliver as close a product as we made in the studio. When we play [concerts], we will try to replicate the music as closely as possible [to what we recorded].
OS: Are there any misconceptions you want to clear up, anything that's been reported that you feel isn't correct?
CM: I pretty much put it all out there. I should probably read more. I don't read a whole lot about what people think [about me or my music]. I  kind of hope for the best. If they like it, that's a wonderful thing. If they don't that's their choice. We just try to live and be as respectful as we can.
Find out more about Morgan, his music and his upcoming tours by going to his Web site.
Check out Morgan and Harmon in the video for "This Ole Boy":