Listening to Fred Eaglesmith's latest release, "6 Volts," makes you feel as if you're having a cozy midnight chat with a kindred spirit.
Perhaps that's because each song on this album has spirit " in every sense of the word " whether its offers a well-deserved swipes at Johnny-Cash-come-lately fans such as on the song "Johnny Cash" or tells tales of love gone horribly wrong such as on the song "Katie." The much-lauded Canadian folk artist is one of the few musicians who is brave, savvy and talented enough to dig beneath the pretext of a subject and expose its true meaning. Not to carry word play too far, but he's a true artistic spirit — not that he will admit it.
Sometimes I wake up at five in the morning and write a song, he said, talking about how penning such classic compositions comes naturally to him. I write jazz songs and big band songs, all kinds of songs. Three weeks later, I might start singing it. If it sounds good six months after I wrote it or a year after I wrote it, I might record it. It's all about the test of time.
The same could be said of his own career. Although his songs have been covered by everyone from Toby Keith to Alan Jackson and Miranda Lambert, Eaglesmith has chosen to stick to the independent route since he released his debut album in 1980.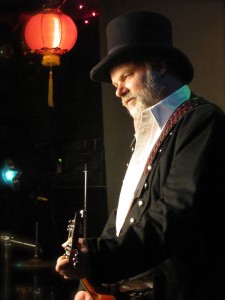 And the indie moniker is  not just in name only. Consider how he recorded this album live with one microphone onto a one-track reel-to-reel recorder. Eaglesmith said that was the only way he could get the raw, natural quality he heard in the songs. Not that he wanted the album to sound as if it came from the 1950s, when 6 volt batteries powered transistor radios and exposed the world to the then-emerging rock n' roll sound. The feel he sought — and achieved — on this album was to pay homage to that time.
Anyone who knows even some of Eaglesmith's music will understand that the mix of contemporary and classic is something of a theme in Eaglesmith's own life.  He may use an I-Pad to jot down his musical ideas, but many of them are strongly tied to his past growing up on an Ontario, Canada farm, one of nine children.
My Dad had an old console radio on top of the clothes dryer, and when Johnny Cash came on, he would put one hand on each side of the radio and really listen to that song. It really meant that much to him, he said noting his dad's love of music inspired him in several ways. "My father was a farmer and he has this great vernacular. He could find every way around swearing and the way he used words was so interesting to me. He was an immigrant and had [a Dutch] accent, but he had a really good vernacular. He really really liked words and was always rhyming."
Although Eaglesmith doesn't disagree that he is also a true wordsmith, he doesn't embrace the notion, either. Instead he talks about how the artistry of songwriting — whether his creations are recorded or not — is — again — spiritual in many ways.
"A lot of my songs are covered and my kids will have them when I die. There is no harm having songs around," he said. "It's great to have all of these songs."
Find out more about Eaglesmith's music, concerts and other projects on his website.