Nicki Minaj is finally ready to release her highly anticipated sophomore album, Pink Friday: Roman Reloaded.  The twenty-one-track album features verses from Nas, Drake, Rick Ross and Cam'Ron among others. Last month she told Complex she intended to sell 5 million copies of the album and tour the whole world.  From the looks of it, she's getting awfully close to her goal. The Harajuku Barbie is already busy promoting the record, and she's wasting no time hitting the road. Minaj will kick off her European tour at Stockholm, Sweden's Annexet on June 8th. Other destinations include Belgium, London, Brussels and Paris before the tour wraps up at the UK's annual V Festival 2012 on August 18th.
As far as what to expect on the record, Nicki's GRAMMY performance gave a sneak-peek of the Roman-fueled project.  Now that the album is here, I'm thinking it's more of a mix between Roman's antics and Minaj's emerging pop star persona; one that looks (and sounds) more like Britney Spears than Eminem.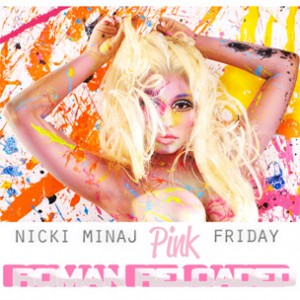 I felt like I had something to prove to everyone who said a female rapper could not make an album unless she was talking about her pussy, she told VIBE last month. So I went above and beyond to prove that I could not talk about sex and not talk about my genitalia and still have a successful album. And I proved that. And now my time for proving things to my critics is over. I don't really need to prove anything to anyone else anymore.
Nicki's newfound confidence is evident in the album, but so is her line-walking between hip hop and sugar pop.  Based on the singles out so far, she doesn't seem to be choosing sides any time soon.  Here, a preview of what's to come on when Roman Reloaded hits stores April 3.
Roman Reloaded: This hard-hitting track features a verse from Lil Wayne and showcases Nicki's real wheelhouse, hardcore spitting against the biggest boys in the game.  In this single, it's obvious Roman is in the driver's seat and Nicki's aggressive lyrics remind me what put her on the map in the first place. Weezy's X-rated verse tops off this fun, if not boastful single.
Marilyn Monroe: An introspective offering from Nicki comes in the form of a self-comparison to Marilyn Monroe. While the concept is a bit of a stretch, I liked this song more than the others, and I can appreciate the notion of feeling scared of becoming too famous. Still, not what I was expecting from Roman's Revenge, but the honesty is appreciated, and noted. The lack of a rap verse was a bit disappointing, but the melodic production is easy on the ears.
Young Forever: One of the more puzzling tracks on the album features Nicki belting out the hook (think ˜Moment 4 Life'), set against a fun, easy-sounding beat. She's back on the sing-songy, love/pop style of writing here, and for me, it seems a bit beneath her.  More astonishing, is how sentimental she seems on an album that was supposedly influenced by her scary alter-ego, Roman Zolanski, who last time I checked, didn't say things like, You'll always be mine/ baby boy you'll be young forever.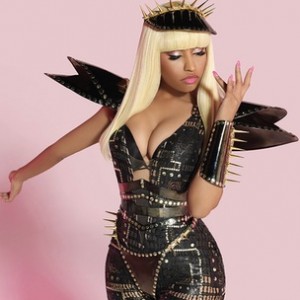 Starships: This upbeat RedOne-produced track has already been heating up radio waves for weeks.  The song is perfect for the club, but not the one you usually hear Nicki playing at.  More along the lines of her David Guetta feature, this single is for the dance clubs and party people more than the hip hop crowd. While the track isn't bad on it's own, it's still so much sweeter than I'd prefer from a beat like Nicki.
Stupid Hoe: In this frantic-sounding single, Nicki calls herself The female Weezy and calls out all her haters in a big way.  The Hype Williams"directed video made waves upon its release, when it was viewed more than any other viral video on its first day.
Beez In The Trap: This hard-hitting track features Atlanta's own, 2 Chainz, and very basic production; providing the perfect platform for some slow-style verses from Ms. Minaj. It seems like she's going for a slogan-inspiring song, but I'm not sure this one will catch on.
Turn Me On: Available as a bonus track on the deluxe edition of the album, this David Guetta track will be a special treat for true fans. Chances are, this one has been blowing up your radio for months; but you may not have realized it was Nicki on the mic in this straight up, pop/dance track.
Right By My Side: This one features Chris Brown for a sugary-sweet pop song, not unlike the millions we've heard from he and Jordin Sparks or the Britney Spears days circa 2000.  Lyrics like  I'm not living life/ I'm not livin' right/I'm not livin' /if you're not by my side, failed to impress me, but Nicki's end of the song rhyme saves it from the trash bin.