Justin Moore has been called one of the latest outlaw country artists. I was relieved, in a way, when I read Moore doesn't think of himself that way. I don't either.
Maybe the moniker came about because he is one of country music's up-and-coming young guns"pun intended due to Moore's hit song Guns." So is his buddy Josh Thompson. And Kiefer Thompson, of Thompson Square. Scotty McCreery is another. The list goes on.
I formed my impression of Moore after talking to him a few times in the past eighteen months. I found him to be straightforward, honest, down-to-earth and incredibly humble. Let's put it this way"mama would let her babies grow up to be cowboys if they were half as genuine as Moore.
But rather than tell you about Moore, we'll let him tell you about himself in this exclusive Q&A.
OS: So you have been on tour with Blake Shelton on the Well Lit & Amplified Tour. What is that like?
JS: It has been a blast! Miranda [Lambert, Shelton's wife] and I are good friends. We've toured together a lot in the past couple of years. Blake is as down to earth as they come.
OS: What's the biggest difference in your show these days?
JM: This tour is different than any other tour [we've done]. For one thing, we have got production and I never had that before this tour. We have a tractor trailer pulling gear. That all makes a huge difference. The lighting, the staging. It takes so much pressure off me as an artist. People are not only looking at you, they see the cools staging.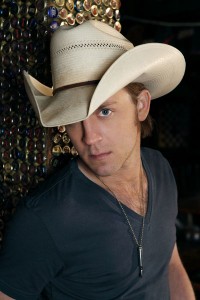 OS: And you've been touring with Sunny Sweeney, too, who is sweet.
JM: I am really good friends with her but I wouldn't call her sweet! She and I are cut from the same cloth, a couple of rednecks. She's doing great thoughand I'm so excited for her.
OS: Of course I know you're best of buddies with Josh Tompkins. How did you end up recording the song "Livin' Like Hank" (about Hank Williams)  with him?
JM: Josh had texted me and said he had a song he wanted me to hear [and consider] recording with him. I said ˜I don't need to hear it. If you want me to sing on it, I'm in!' He's a great songwriter and he's not going to cut or sing a song that isn't great. I didn't even hear the song. The first time I heard it was in the studio.
I think we cut it in Nashville during [the Country Music Association Music Festival] or one of those industry weeks. I don't remember what one it was, but we went in and cut it in a couple hours.
OS: It's great how you and Josh and Sunny and others seemed to all arrive in Nashville about the same time and rise in country music at the same time. What's that like?
JM: We are all so glad to get to do this for a living, to continue to get records on the radio. It's so cool to see your friends do well and everybody is really happy.
OS: So although your album Outlaws Like Me came out less than a year ago, I hear you're working on another album?
JM: I wouldn't say I'm necessarily working on a new album. I don't feel a lot of pressure right now to get something done. When the second or third single comes out, you kind of start talking about it and I have probably written twenty songs so far and then obviously I have so many [songs I wrote earlier that didn't make it on an album]. So I feel there's a good body work we have to choose from.
OS: So I was thinking about your family and how your daughters will always know you as famous! How does that feel?
JM: It's a little weird! My wife [Kate Moore] and I were talking about it the other day. My wife and I took the girls [Ella Cole and Kennedy Faye and other relatives] and flew out to Vail, Colorado. My grandma hadn't flown in forty years! My wife and I were discussing the fact that [our daughters] don't know how lucky they are! Here we are, twenty-eight, twenty-nine years old and we never did anything like that! But we want them to grow up as normally as possible.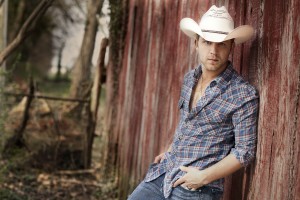 OS: They have a different life in a lot of ways, I bet.
JM: They do. My oldest [Ella] just turned two and she has been doing this her whole life. Getting on the bus is normal to her.
OS: How does she react to your fans?
JM: We don't know if she really grasps what is going on. I'll carry her on stage  and she looks at me like "What are you doing, dad?" We'll see what she thinks in a couple of years. My little one will tell people [when I'm on tour] "He is at work playing music."
OS: It must be unbelievable in a way to love playing music and find yourself successful. What a difference in lifestyle.
JM: My mom and dad and I were talking about that the other day. When we were on vacation, we kept saying "Can you believe we are in Vail?" My mom and dad and I were at a restaurant and they had a cheeseburger for something like $40 and I was like "Who comes here?!" and my dad said "Well you do!"
We were talking about how my mom and dad saved all year to take me on vacation. We went somewhere every year, like Branson, Missouri. It was great but very different.
OS: After being so poor when you started, right?
JM: Right. I can picture in my mind the first time I got a significant check. My wife and I, we were late on our car payment. We couldn't afford to pay it. We finally got something like $3000 in our bank account and we just looked at each other and said "We're rich!" We had never had that much money. We were so poor, after we paid our bills we had about $30 or $40 for the month.
Now everything has changed. I just feel that I am very, very blessed.
Go to Moore's Web site for tour dates, music and other information.