It seems safe to accept it as a given that Cathy Fink and her musical partner Marcy Marxer didn't win GRAMMY Awards because they played it safe. Their latest album takes the same non-traditional path with songs that owe more to Pete Seeger than Pete Townsend as played on the once lowly uke.
In the old days, people used to laugh at us because we played for kids, said Fink recently about the duo's untraditional musical path that led to the recent release of the thirteen-track recording Rockin' the Uke. Now they are trying to play for kids. And we have been sprinkling uke cuts [throughout our albums and shows] for years.
More like decades, to be exact. Fink carved out her initial musical niche in her hometown of Baltimore during the height of the folk revival before moving on to Montreal and beyond. Multi-instrumentalist Marxer has played folk, Celtic fingerpicking, bluegrass, old time and swing for years as a studio musician, performer and producer. Perhaps it was something akin to destiny that these two virtuosos would work their way to the uke.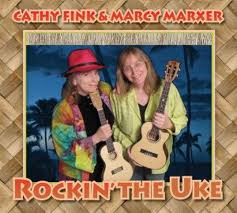 A major highlight of their work, besides the just-released album of course, is their collaboration on the annual Uke Fest held at The Music Center at Strathmore in Bethesda, Maryland. Professional musicians and amateurs alike join in the free event for fun and also in the hopes of breaking the 851-player record set in London in June 2009. The event is B.Y.O.U. (bring your own uke) or you can buy one on site.
Helping people learn to play their own instruments in a satisfying way and virtuoso way is great, said Fink. It makes it even more special when it's enjoyed by families together"parents and grandparents.
Indeed, the duo has done a lot of work with the American Music Therapy Association, giving music therapists' working knowledge of the little instrument that they use to aid healing.
The uke works like a four-string guitar, said Fink. It's inexpensive, portable and you can beat it up and it still plays great. What many don't understand is that the four-string ukulele is incredibly versatile.
Especially in the hands of Fink and Marxer. Any doubters need only tune into Rockin' the Uke, that Fink said is an array of both classic and newer songs for the duo. Some folks have called it folk pop, but the songs on it really cut to the heart of alt-country Americana and folk.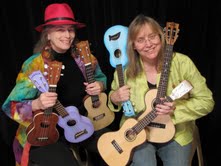 Consider tracks such as Bye Bye Blackbird"as a side note one of the first songs blues guitar wizard Johnny Winter ever learned to play"to songs that instill island fever such as I'll be Dreaming of Hawaii.
The goal, said Fink, was to bring joy and one listen proves that mission as accomplished.
'I'll be Dreaming of Hawaii,' includes some of Marcy's most brilliant songwriting, said Fink noting her musical partner worked with a professor in Hawaii to ensure the wording was accurate as well as fun, she said. It's a family friendly album that the whole family can listen to and enjoy.
Find out more about Cathy and Marcy at their Web site.