Life is full of surprises, and sometimes, so is pop music. In recent weeks, it's recovered its long-dormant ability to shock, or at least catch us off guard with the unlikely hit, or the unexpected comeback.
Several months ago, I never dreamed I would ever ask the question that is the title of this article. It had been more than twenty-five years since Lionel Richie's commercial heyday, and on the charts, he had been succeeded by younger romantic leads in pop and R&B many times over (Babyface, Usher, Ne-Yo, among others).
Then came one of those surprise developments seldom seen in pop anymore: On Billboard magazine's Top 200 album chart for the week following the March 26 release of Tuskegee, Richie's first studio album since 2009's Just Go (which didn't make the US Top 20 and failed to go gold), he debuted at No. 2 with first-week sales of 199,000 copies, right behind Madonna's latest, MDNA.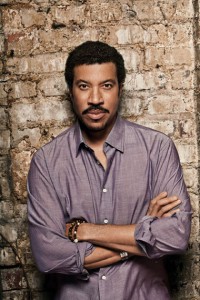 How did he pull off such a stunning commercial comeback? Did people get confused and think the album was a belated companion piece to Red Tails, the recent feature film about World War II's Tuskegee Airmen? The out-of-the-box success of Tuskegee probably had more to do with a can't-miss premise that previously worked for Frank Sinatra, Santana, Ray Charles and Tony Bennett, among others, leading to gold, platinum and Album of the Year GRAMMY Awards. The excellent, time-tested concept: a duets album. Veteran hooks up with fellow icons and newfangled talent on his/her greatest hits and/or brand new tunes.
Just in case that wasn't ammunition enough for a full-on pop-chart assault, Richie's ace publicity campaign (which included a March gig as mentor for Team Christina Aguilera on NBC's The Voice, a March 14 performance at SXSW, and an appearance at the April 1 Academy of Country Music Awards, where he sang You Are with Blake Shelton) fueled the heat. Steadily-building fan interest kept things boiling: While Madonna's MDNA plummeted to No. 34 after four weeks, Tuskegee continued to soar, reaching No. 1 in its third week and staying there the following week.
Richie's not just hot in the US. I recently boarded an Air Asia flight from Chiangmai, Thailand, to Bangkok to hear Lionel Richie and Shania Twain crooning "Endless Love" blaring from the in-flight sound system. In the taxi on the way home from Bangkok's Suvarnabhumi Airport, Lionel Richie and Jennifer Nettles were singing "Hello" on the radio. A few days later, in Pattaya, on Thailand's Gulf coast, it was "Hello" again on the radio, this time Lionel Richie singing solo on the original version of his 1984 No. 1 smash.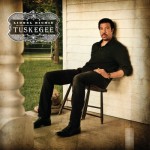 Meanwhile, on the Billboard album chart for the week ending May 5, 2012, Richie had two other albums on the list: The Best of Lionel Richie at No. 63 and The Definitive Collection at No. 79.
Why him, and why now? I have four theories.
1. There's a dearth of romantic music. With dance-pop ruling the airwaves, Adele can't shoulder the burden of producing hit songs about love alone. Will he follow her lead into the National Academy of Recording Arts & Sciences' good graces and score some GRAMMY love with an Album of the Year nomination? (He previously won the grand prize for 1983's Can't Slow Down.)
2. Everybody truly loves the '80s"still. Had Richie gone the Santana route and teamed up with country-pop whippersnappers on a bunch of new tunes, nobody might have noticed. But he wisely revisited his greatest hits from a decade that continues to be embraced even by kids who weren't around to experience it the first time. He then put a modern twist on those golden oldies that made younger pop and country fans feel like they were getting brand new tunes.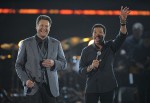 3. He chooses collaborators wisely. On Tuskegee, they include the cream of the current country crop"Kenny Chesney, Tim McGraw, Rascal Flatts, Blake Shelton"alongside golden oldies like Kenny Rogers, Willie Nelson and Jimmy Buffett. Next up: Hopefully that long-awaited Commodores reunion, which Richie has been promising for several years now. Presumably he won't try the Tuskegee tactic with his former band, though I wouldn't mind hearing what Commodores featuring Foster the People, or fun., might do with Brick House.
4. He's a survivor. With Michael Jackson and Whitney Houston gone, so are the two biggest black pop stars of the '80s. For those who prefer their nostalgia with a little color, Richie"who co-wrote We Are the World with Jackson and had twelve consecutive Top 10 solo hits on Billboard's Hot 100 between 1982 and 1986"or Prince would be next in line. Does that mean there's a 100 percent chance of getting doused by another purple reign? Stay tuned.