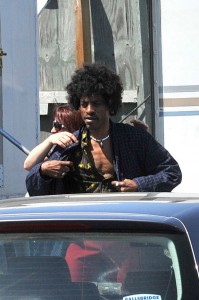 Memorial Day weekend saw rapper Andre 3000 in Ireland prepping for his role as Jimi Hendrix in the upcoming biopic All Is By My Side. Sporting a fro'd out head of hair (wig?) and what appears to be a conch shell or hemp necklace in images that appeared online on the 28th, Andre absolutely embodies the late rock legend. At least in terms of appearance.
The film has faced opposition from the Hendrix estate who had previously prevented the project from going forward. However, the photos indicate that the John Ridley (Red Tails, 3 Kings) helmed project appears to be in production. But Experience Hendrix, LLC, the group in charge of managing the late guitarist's licensing and publishing, is not offering their complete support of the project. In an official statement released earlier in May, the estate made it clear that they required complete access and oversight of the production process if they were to allow the use of Hendrix's music, saying, "Experience Hendrix, LLC, the family-owned company entrusted with safeguarding the legacy of Jimi Hendrix and administrator of the Jimi Hendrix music and publishing catalogue, has made it known many times in the past that no such film, were it to include original music or copyrights created by Jimi Hendrix, can be undertaken without its full participation."
This isn't the first time that Experience Hendrix, LLC has prevented a movie from utilizing the late guitarist's music. A potential project about the "Purple Haze" performer from director Paul Greengrass (The Bourne Supremacy, United 93) was struck down by the estate in 2010.