Every superstar worth his or her weight in durability (See: Cher, all-time queen of the comeback) has been up, has been down, has seen fire, has seen rain, has had one of those full-circle careers that's come around and around again and again. Professional fluctuations is a part of Hollywood life, and those who can weather those particular storms, come out in a better place, because as Kelly Clarkson sang on her recent No. 1 hit, what doesn't kill you makes you stronger, stronger.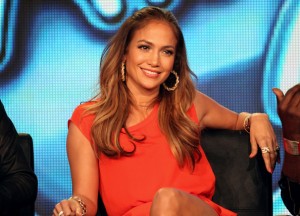 And just how stronger is current comeback queen Jennifer Lopez these days? She may not be quite the tabloid draw she was a decade ago, but if you've watched American Idol during the past two seasons, or heard her 2011 hit "On the Floor" on the radio, on TV, on YouTube or, well, on the floor, you know that she's flexing again.
Forbes magazine just ranked her atop its 2012 Celebrity 100 (up from No. 50 in 2011), which lists the most powerful people in entertainment. With an estimated income of $52 million in the last year, Lopez came in ahead of last year's champ Lady Gaga (No. 5), Oprah Winfrey (No. 2) and Adele (No. 24).
Forbes's criteria for its 2012 appointment: being hotter than the rest (23,000 press mentions, 46 major magazine covers) and most sought after by fans (530 million YouTube views for "On the Floor," 12 million Facebook "likes" and more than 6 million "followers" on Twitter). Not bad for someone who was so over"or so everybody thought"just a few years ago.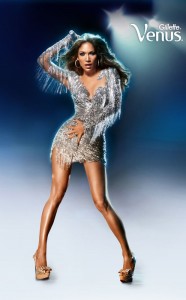 I understand that nowadays it's all about social-media might and YouTube views. And every famous person wants to be paid big bucks to hawk stuff that no sane person actually needs. But let's face it: viewing videos on YouTube, liking an artist on Facebook and following one on Twitter"to quote one of Lopez's biggest pop hits"don't cost a thing. Anyone with enough time to kill can help to make it seem like any given video is the hottest thing on the planet.
And just because a superstar is hawking, it doesn't mean people are buying it because of her, or him. When companies grant massive paydays to certain celebrities for endorsement deals, it actually says more about Madison Avenue's perception of the stars than the public's adoration of them. Julianne Moore and Nicole Kidman have been two of Hollywood's big advertiser draws this century, but nobody goes to see their movies.
Ultimately, isn't power in Hollywood and in music about not only your capacity to earn huge paychecks from corporations, but also your ability to get fans to spend money for the honor of having you in their lives? You're nobody unless everybody loves you and is willing to pay for it.
It's been nearly a decade since Lopez has been able to say that everybody loves her"or even cares about her. Yes, she's making a ton of money on American Idol (a reported $20 million this season), and exposure from the show has helped her land endorsement deals (including L'Oreal and Gillette) and a few chart hits (her latest is "Dance Again"). I'll give her this, too: Simon Cowell (No. 18) aside, she's probably the best judge Idol has ever had. That makes her still good for something, solidly resurgent, but the most powerful superstar on the planet?
Here's why she might be lacking: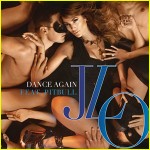 Chart clout Despite launching the No. 3 hit "On the Floor" and debuting at No. 5 on Billboard's Top 200 album chart, Lopez's 2011 Love? album didn't even go gold and failed to produce a follow-up hit. "Dance Again" has done far better than any of Love?'s post-"Floor" singles, but it was No. 17 after six weeks on the Hot 100, not the instant smash one might expect from the most powerful woman in entertainment. To put it into perspective, Maroon 5, featuring The Voice judge Adam Levine on vocals, debuted at No. 3 with "Payphone" and was No. 2 after four weeks.
Box-office clout It's been years since Lopez has had anything resembling a hit movie. The Back-Up Plan made only $37 million in 2010, and her latest, What to Expect When You're Expecting, in which she's second-billed to Cameron Diaz (No. 59), made $10.5 million over the weekend following its May 18 opening, and debuted at No. 5, two spaces and $15 million below Battleship, the first film to feature Rihanna (No. 4), one of Lopez's stiffest pop competitors. (I wonder how the Forbes list, which came out on May 16"well before What to Expect opened"would have panned out had it been compiled on May 21.)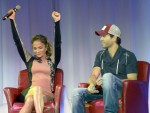 Concert clout Lopez's summer tour with Enrique Iglesias (kicking off July 14 in Montreal) became front-page entertainment news as soon as it was announced on April 30. Lopez will make another bundle of green, and tickets are already selling well. But Iglesias, a consistent and proven concert draw, would have continued to be one with or without Lopez. Could Lopez, who has never headlined a tour nor proven herself as a live singer, be the same without Iglesias on board?
Critical clout She may get to present at the Oscars every year, but aside from a 1997 Golden Globe nomination for Selena and good reviews for 1998's Out of Sight, Lopez has never had much critical acclaim. Not that the queen of entertainment needs to be beloved by critics, too, but as screen queen Meryl Streep (No. 83) has been proving for the last decade or so, it would certainly tighten her grip on the crown.