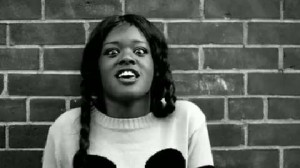 19-year-old Harlem, NY-based rapper Azealia Banks is not known for her subtlety or nuance. No, the spunky female MC has made a name for herself with tracks like "212," a song which is as lyrically dense as it is lyrically explicit. Banks has also been fairly outspoken over her Twitter account, like many other rappers. But Banks took it to another level this past Friday. After it was revealed that Banks had ended her professional relationship with manager Troy Carter – with whom she had signed just two months prior – the rapper went on the offensive over Twitter.
"Guess what?: I'm still not going to let you manage me again. I've dealt with enough cyber bullying to see right thru this."
"I will definitely be working BY MYSELF and saving MY 20% On management commissions while I avoid you sharks in the water…."
Banks went on to say that she would only work with a female manager or "a really gay man" in the future. Shortly after her tweet tirade, Banks deleted her account.
Banks later took to her Tumblr, posting that she was "NO LONGER WISHING TO BE A RAPPER." This statement was later amended in a follow up post, with Banks saying that she would continue to rap, only that she did not "want the label and all the other crap that comes with the 'rap game'." Banks also stated that she would be communicating with her fans exclusively through her Tumblr going forward.
Carter, who notably manages Lady Gaga, had released a statement on the 7th, stating that he and Banks had ended their professional relationship "on very amicable terms."