Being a sibling to one of the hottest stars on the planet can have its benefits, but Trace Cyrus (aka Ashland High) has had no problem making a name for himself. Miley's older brother rose to fame in 2006 when his dance-pop band Metro Station was discovered at the top of the charts on MySpace. The group exploded in popularity with the release of their song "Shake It," and were soon sharing the stage with the likes of Cobra Starship and Fall Out Boy. After the band parted ways in 2010, Trace decided to continue honing his musical skills, and now records and performs solo as Ashland High. We met up with Trace at the Bamboozle Festival to learn more about the new project, his clothing line, and what it's like to work with his famous family members.
OS: How has your weekend at Bamboozle been?
TC: My weekend has been busy. It feels good to sit down and relax for a second. I've been here since Friday. I performed today and I've been selling my clothing line and meeting kids. I've met thousands of kids, I haven't met this many in years. It's great.
OS: You've been making music under the name Ashland High for a few years. How did it all begin?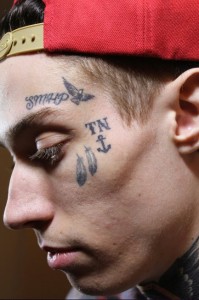 TC: It started a couple years ago after Metro Station. It wasn't really planned, but we went our separate ways. Basically, we were trying to record the second Metro Station album and it ended up being just me on a lot of tracks by myself, and I was doing a lot of work. It kind of gave me the confidence, since the band went our separate ways, I was like, "Well, I already did five songs by myself in the studio." They weren't great, but they weren't horrible. Two years later, like, a hundred and fifty songs later… The songs I have online, I did that last November and I recorded all of those songs in nine days. But before that, I had over 150 tracks that I did with other producers. It took me a long time to just feel confident with my craft as a solo artist. When you have a band and everyone contributes, it's a lot different. I'm definitely happy with where I'm at. Hard work pays off when you're doing it by yourself. I definitely have people helping me, teammates, producers and whatnot, but Ashland High is a solo act. A lot of people think it's a band, but it's strictly me.
OS: So, musically, how is this different from Metro Station?
TC: Honestly, I still think it's very similar….dance-pop music. I think it's a little bit more grown up and more mature now. With Metro Station, we were always singing about staying young and being young and songs like "Seventeen Forever" and "Shake It," that vibe with every song. I was 17 when I started that band and wrote all those songs, and I'm 23 now, so I think the only thing that's different is it's more grown up, and I'm writing even more pop songs. I want to be able to tour with people like Lady Gaga and Katy Perry and Ke$ha. Things like [Bamboozle] are great, but I truly feel like I'm going to be an artist out of this scene of music that will go on to be more mainstream…Metro Station was going in that direction, I think.
OS: Earlier, you mentioned your album, Geronimo…what was the writing process for it?
TC: It was so much fun, because we did it in my home studio. I have a pretty nice house in L.A. that I got last year, and in the back is a studio. I have my vocal booth, my whole recording set-up in there. So I flew my producers in, they're called The Lost Boys, from Montreal, and we just locked ourselves in there. We would be in there sometimes until the sun came up. We'd stay up all night recording. We made 11 songs in nine days. We just didn't stop. It was one song after another. It was so satisfying, because as soon as we got done with one song, we wanted to listen to it, but we just didn't have time to know if it was good because they had to leave in a week. We knocked out that album and they mixed it within a month. I dropped it on January 1st and it was just fun. Like I said, I was in my home, and there's nothing better than recording until five in the morning and knowing you don't have to drive home. So it was awesome, I loved it!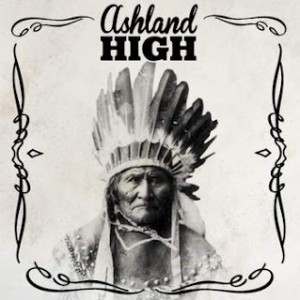 OS: What made you decide to give the album away for free?
TC: I gave it away for free mainly just because I had so much success with Metro Station…since I've already more money than I'd expected off of music, I just wanted to give something back to my fans for giving me so much. Not a lot of people buy albums these days, and "Shake It" sold over four million copies…a lot of people don't know that. That's pretty incredible. I just wanted to give something back to my fans and I thought it would be cool for me to do it, as a pop artist…rap artists give away free music all the time. We wanted to do something like that with Metro Station, but our label would never let us. So I was like, "I'm just going to do it now, before I get signed to a label and they tell me no." So now, my plan is that every year on January 1st, I'm going to release a free album. That's the goal…every year, I want to release one in-store album and one free album, so every year you'll get two albums from me.
OS: As you said, part of the reason why you're here is to promote your clothing line. How would you describe the clothes? Where do you get your fashion inspiration from?
TC: The clothes are fun. Lots of t-shirts with designs and hoodies. We're starting to get accessories, sunglasses and things like that. The inspiration…I'm finally making a clothing line of stuff that I would want to wear, and I'm not just thinking of teenage girls, because my fan base is young girls. God love 'em, but honestly, a lot of times with clothing lines, they'll pitch you designs and if you like one, you'll use it. So if I thought a little girl would like it, I'd just use it. With this last line, I told my partner, who works with Killbrand, I was like, "I don't care if we share one shirt, I just want to make clothes that I'm happy with and I want to wear." Because if not, then what's the point of doing it? Like I always say, I do music because it's my career. It's my living, it's competition and I want to be the best at it. I want to be at the top of the music charts. With clothing, it's not like that. I can have fun and not worry about it. I'm not trying to be bigger than OBEY [Clothing] or anyone. With the last round of designs, my partner Johnny and I were on tour together, he drummed for me on the Breathe Carolina tour and we thought of them all on that tour. It felt so good, because I got to know him on that tour… we've been working together for two years, but we don't get to spend a lot of time together. The line is called High As Fuck…I'm passionate about smoking weed. It sounds funny, I know. But in California, it's a lifestyle. Everyone smokes. So that's what the line's about, it's all weed-related. I don't know, I just want to put a positive spin on it because everyone tries to make pot to be something that destroys your life and you see people like me who are doing amazing things with their life, so it's not true. That's what it's all about this time.
OS: You're also obviously really into tattoos…can you tell us about your favorite one?
TC: They always change, because I'm always getting new ones. I just got the side of my head tattooed, it's an Indian chief. It hurt like hell! But I just got it, and I'm always stoked on the newest one. Right now this is my favorite one, but I'm about to start on my legs, and I know those will be my favorite then. It's like a new shirt, you just get stoked on what's new. But I love all my tattoos! A lot of people think I have so many that I regret them, but I don't. You get to an age where your tattoos become like a part of your body, and you feel like you've been there forever. It's like if you weren't happy with a part of your body, you just fucking get used to it. It's no big deal.
OS: You've collaborated with your sister Miley and also with your dad…do you have any plans to collaborate with them in the future?
TC: I did the song "Hovering" with Miley, we performed that every night on her Wonderworld Tour. I did this song called "Alive" on my dad's Brother Clyde album. I recorded a song a year ago that I haven't released yet, called "Shot In The Dark." I did that with Miley and the same dudes who did my mixtape. I know it's going to be a smash, I wouldn't be surprised if it went to number one on the charts. It's huge. Miley sings the choruses, I sing the bridge and the verses. I think you can just hear the chemistry in that song. We were in the studio together, and it felt so real. It made me proud because Miley's had so much success, but seeing her work on my song… she was done with it and she kept wanting to do more takes and go above and beyond. That's why people like her are superstars. As soon as you have enough work, you have to keep doing more. The job's never done. We're probably not going to release the song on the first album, I'd say it's going to be released after the first Ashland High in-store album. I waited three years to tour with Miley, but I never wanted to feel like I used her to gain fame. So after I sold 4 million copies of "Shake It," she asked me to go on tour and still, I was hesitant. Now it's cool, we did this song together, but I still feel like people don't know who Ashland High is. Once Ashland High is to the point where Metro Station was, then we'll do more things, more songs and more tours and stuff like that. We're just proud that we're all doing music and we come from the same family. I think we're one of the most talented musical families in the world right now. I truly believe that. We're proud of each other.
Check out Ashland High's video for "Jealous Lover" below…and be sure to follow Trace on Twitter and Facebook for the latest updates.