Dots Will Echo is a computer programming term and a duo from New Jersey. Dots Will Echo are melodic power-poppers and Crazy Horse-backing-Captain Beefheart sonic provocateurs. Dots Will Echo are a brand new band that's been around since the ˜80s. Dots Will Echo are wild-eyed rock & roll maniacs and amiable suburban family men. Dots Will Echo are Nick Berry and Kurt Biroc, though Dots Will Echo was once Nick Berry and a bunch of other guys, and has occasionally just been Nick Berry. Dots Will Echo has a double-length album coming out July 24 on Sufjan Stevens' label, Asthmatic Kitty, entitled Drunk Is The New Sober/Stupid Is The New Dumb.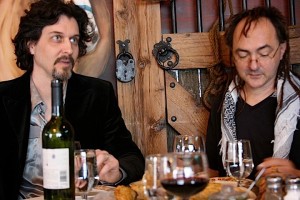 To make sense of all the above, let's go back to the beginning with the stalwart tender of the Dots Will Echo flame, singer/songwriter Nick Berry. I started writing songs when I was nine, remembers the Garden State native, maybe younger. I remember being a little kid, I had a friend down the street, and we wrote songs as a kind of competition, I didn't even play an instrument at the time. But Berry's interests took a more outré turn while he was still in high school. I was in an avant-garde band, he says, recalling that group's theatrical onstage escapades, My friend Roy had built a gigantic instrument he called a Googis¦he had rented a truck to get it to this one gig, and the guy [the truck driver] had taken off. He had no way to get it home, so he took a hammer and destroyed the thing onstage. We had a song called ˜Rubella,' which was just all guitar feedback and oscillators, and at one point we would just lean the guitars up against the amplifiers and then run out into the audience screaming. And every time we did it, it was the kind of thing nobody could process [laughs], these people just had the look of a deer in the headlights. One gig there was a dog there, and I started chasing this dog around the audience¦blowing free jazz on a clarinet while this dog is barking. And the guy that owned the dog joined the band.
But after that ensemble eventually collapsed under its own weight, Berry, still in his teens, started considering a sharp turn from his iconoclastic outings towards more conventional composition. At some point I became fascinated with the idea that sometimes there'd be a stupid song on the radio, he explains, everybody seemed to like it, and I had to admit to myself that there was something appealing about it, and I guess I was kind of intrigued by that. I wanted to find out what was behind that. What was it that made a song good? If you have one guy just playing D, A, and G and singing a simple song, what's the mystery behind making that good?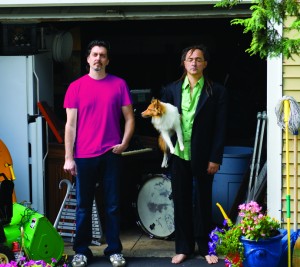 Following this quest to its logical conclusion, Berry began writing more melodic, accessible songs, eventually forming a straight-up rock band called Zero, but as he recalls, there were just too many local bands with similar names, so he found one that remains unique to this day, inspired by the programming term for the dots that appear onscreen each time you type a letter for a password"Dots Will Echo. When the lineup solidified, Berry was the guitar-wielding singer in front of bassist/keyboardist Bob Albanese and drummer Steve Meltzer. They self-released an eponymous mid-˜80s album and ultimately became cult heroes of the downtown NYC scene, with a mix of infectious power-pop tunes and off-kilter lyrics about everything from Danish philosopher Sí¸ren Kierkegaarde to a man who falls in love with a face on a wanted poster at his local post office.
Onstage, the original Dots Will Echo was a rock & roll Marx Brothers movie, with Berry reprising some of his old avant-garde antics in a new context. I think part of it is I kind of wanted to do a parody of rock theatrics, says Berry, playing a guitar solo with a bunch of carrots"I pretty much discovered that six steel strings work very well for shredding a bunch of carrots. I used to cover it [the guitar] with whipped cream too, and I discovered really fast to use the artificial whipped cream, because the next day it turned rapidly into fairly smelly cheese, and it got all in the pickups and everything.
In the early ˜90s, an unlikely alliance was forged when New Age impresario/Windham Hill founder Will Ackerman started his rock/pop imprint, High Street Records. They actually started the label for us, explains Berry. They signed [L.A. chamber-pop band] Downey Mildew as well; that was gonna be the new label for pop- and rock-oriented stuff. Will's a great guy, he was totally different from what I expected him to be. He was witty as hell, funny as hell, gigantic personality, kind of takes over a room when he walks in. We had a lot of fun. The band released another self-titled album in 1991; soon Dots Will Echo was the focus of a next-big-thing article in Rolling Stone, and they popped up in the Top 10 in Sweden, of all places. However, the odd coupling was a short-lived one. I think the label was a little divided, Berry recalls. I think there were people in Will's camp and people that weren't exactly in favor of going in that direction, so that may have impeded things there. The record probably hadn't done as well as they expected. I was told that we were just victims of the downward spiral of the music business that had started at that point.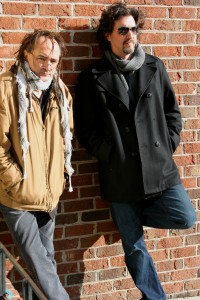 But that didn't deter the Dots from their course. We kept going, says Berry, we put out [1996 album] Get Your Hands Off My Modem, You Weasel, and we just tried to be more aggressive. A lot of labels came very close to doing something with us. I guess I was enamored of the idea of doing things yourself. But by the end of the decade, the band was on its last legs. It sort of fizzled in the late ˜90s, Berry remembers. Bob had moved to a geographically inconvenient location. I did one or two gigs with Steve. Steve was playing with a lot of other people. So we never officially broke up, it just sort of fizzled. For a while, Berry played solo shows under the Dots Will Echo banner, but he never lost heart. It was something I loved doing, so I really couldn't stop, he says, as much effort as that took at times. You get to be an adult with your various responsibilities, and it does have all the appearances of being a foolhardy enterprise to play to five people in Bushwick on a Wednesday night. I was just too stupid to know when to stop, he claims. Success was never measured in terms of notoriety or financial recompense. Songwriting was just something I did, so I saw no reason to stop; it was just an act of love. Like St. Paul said, ˜Love is the law.' And I was just obeying the law I guess.
Berry eventually got involved with a new batch of musicians, who fell off one by one until the last men standing were him and drummer Kurt Biroc. Together, they became the Dots Will Echo that debuts on Asthmatic Kitty this summer [a handful of earlier limited-edition DIY singles and EPs notwithstanding]. The duo's eventuation onto indie-pop phenomenon Sufjan Stevens' label was a rather organic process. When I first heard Sufjan's Enjoy Your Rabbit I immediately loved it, says Berry, so, as my habit was, I just sent them some stuff, and Lowell [Brams, co-founder] actually liked it, so we always kind of kept in touch. We had this record pretty much finished, so I sent him a handful of tracks, and that's how it all started.
Drunk/Stupid is brimming with energy, invention, and irreverence in equal amounts. It bears a raw, spontaneous feel that lets Berry's songs really breathe. It was a little more raucous and far less careful than the other stuff I had done, he says. I had wanted to make something that sounded like we sounded live. I wanted to keep it really stripped down, just guitar, drums, and voice, and maybe one or two overdubs, and I just sort of got carried away. He's referring to the exotic arsenal of instruments he employs over the course of the album in addition to the standard guitar and keyboards, including everything from autoharp and glockenspiel to Andean charango. It's like a bad drug, says Berry, launching into mock-dramatic cautionary-tale voice, Don't get started kids. Overdubbing"once you start, it's a road straight to hell.
At the heart of the album is a fruitful marriage of purity and perversity, where poignant lyrical images and elegant melodic arcs coexist happily with the subversive tactics of deliciously deranged sonic saboteurs. Citing his background for context, Berry says, I went from being a little kid who couldn't get enough of Sun Ra and Karlheinz Stockhausen to trying to figure out what it was I liked about pop music. I don't see beauty and derangement as being at opposite ends of a spectrum. When I was a 14-year-old kid, I had not read any philosophy or anything, but I had this idea that at the heart of the universe, what God was about was absolute chaos"that everything existed at once, all possibilities existed, and how God created things was simply by placing limitations on all these possibilities. So I guess to my mind, chaotic can be very beautiful.