Bluegrass legend Del McCoury gives me hope that I can be redeemed musically, even if I still have a lot of work to do to reach that state.
Let me note that it's probably not cool to use myself as an example, but I'm guessing that a lot of folks wonder if the musical joy they experienced as kids can be recaptured. After attending this year's DelFest during Memorial Day in Cumberland, Md., I have to believe it can.
I had originally intended to let Del McCoury tell you about DelFest, that just wrapped up its fifth season and is busting at the seams with attendees (the area's local newspaper reports expansion plans are underway). We'll let you hear from Del, of course, but after reading the non-stop CMA Fest coverage, the Bonnaroo dispatches, and the excellent Kindle single "The Same Coachella Twice" by Sean Howell, I thought some personal perspective might be useful, too.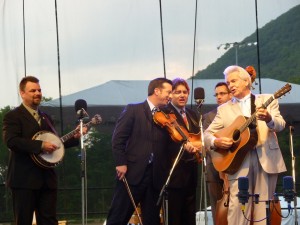 Let's start with some background about McCoury, who was a legend before the title was handed out like flyers advertising a tent sale. McCoury was first the banjo player, then lead singer and rhythm guitarist for Bill Monroe's Bluegrass Boys. We could go on and on about his career, which he put on hold for more than a decade so he could be close to home and help raise his family. Highlights include a Lifetime Achievement Award from the National Endowment of the Arts, membership in both the International Bluegrass Music Hall of Fame and the Grand Ol' Opry, and that's just for starters. You likely get the point.
Or part of it.
The real point is that although he's a hero to many musicians"Bruce Springsteen, Jon Fishman of Phish, Paul Stanley of KISS"he has never chased musical trends. And from what musicians tell me, McCoury never held those who did in contempt. Instead, he takes enjoyment and inspiration from all music, including that which he wouldn't play.
If you think I am ranting on, you should hear his musician fans, including Fishman, talk about him. When I spoke to Fishman for a Country Weekly story, he talked about how the late, great Jerry Garcia of Grateful Dead had said in an interview that through his entire career, he only wanted to sing and play like McCoury. Fishman hadn't heard McCoury's music when he read that passage, but he kept the name in mind. It was just about 1985, around the time Phish started, that McCoury's music came on his car radio. Fishman said he immediately pulled the car over to listen in wonder. "The singing and playing were killing me," he said. "I was laughing, salivating. It was the greatest sound I ever heard come out of a human face…I immediately started idolizing him, as well."
Now the problem with idolizing musicians, of course, is that it sets you up for disappointment. I was thinking about that earlier this week when a Facebook friend chided me about a lack of yesteryear pop music knowledge. I responded that in those olden days, I only liked punk. Sounds elitist, right? What's funny is that when I responded to my Facebook friend, I felt sad.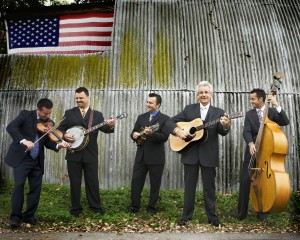 I had grown up listening to country music"the Opry radio broadcast was the station of choice when my sisters and I played board games"and realized I abandoned it when I grew discouraged about the format's homogenization and the attitudes of some of the performers. If I was going to consume too-cool-for-you music by somewhat snooty musicians, I might as well chase the in-crowd trend. At least then I could gear up for the disappointment.
I think that experience might be somewhat common. All these years later I've found that many other critics almost dread in-person interviews with musicians whose work they personally love. Same goes, in a way, with covering live concerts. If the musician is a jerk or the music isn't vibrant, the experience can send us right back to disappointment. Sometimes partial ignorance can be bliss, especially when covering popular music. What's interesting is that some musicians tell me they have the same trepidation when meeting or attending a concert by one of their favorite musicians.
The one person it seems we can all agree hasn't let us down is McCoury. Not only is this bluegrass icon an "every man" but he's almost a musical sherpa. One well-known artist"whose music I loved until I realized she is a country-music-is-cool trend follower"attributes a lot of McCoury's best qualities to a standard for performer in bluegrass. I wouldn't say this to her, but I don't agree. That might be what she does, play the role of "down home musician," but McCoury is genuine. Others who are much more involved in music than I am, apparently agree with me.
"The thing that makes this festival stand out is Del McCoury," said Vince Herman, a co-founder of  polyethnic cajun slamgrass band (you can call them a jam band; that's fine) Leftover Salmon who also founded Great American Taxi. "There is no one in this world like him."
The man has a point. How many internationally known musicians do you think would not only play their sets, join many other sets, stay up until the wee hours of the morning jamming with other musicians, and still make time to travel by golf cart to make sure that campers are safe, secure, and having fun?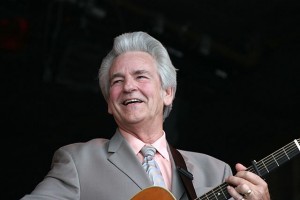 "DelFest all starts with family. Del and his family are very caring, really egoless," said Leftover Salmon multi-instrumentalist and co-founder Drew Emmitt who also has his own band. "There is little room for ego and attitude. There is only joy and pure musicianship. These are just genuine good people and that really radiates. That's why you have Warren Haynes, Chris Robinson, and everyone else playing DelFest. When Del calls, you go."
The Infamous Stringdusters, Yonder Mountain String Band, Steve Martin & the Steep Canyon Rangers, Keller Williams and the Travelin' McCourys, Sara Watkins of Nickel Creek, Bela Fleck, and  Sam Bush are just some of the musical royalty that answered the call this year.
Yet for all of that star power, it was Del McCoury and his A-list band that includes sons Ronnie (mandolin) and Rob (banjo) plus fiddler Jason Carter and bassist Alan Bartram who received the most raucous round of cheers throughout their sets. Believe me, it wasn't just the group's stellar, award-winning music that won fans' hearts. And it wasn't that McCoury is truly a music legend. It was both those things and more, including McCoury's gathering of a wealth of musicians that weren't there for commercials reasons but rather to celebrate music as evidenced by the many late night jams.
"My fans are predominantly bluegrass fans," said McCoury of this year's somewhat eclectic DelFest line up. "At DelFest, we have a mixture of fans these days and I think about them all the time. We have got to keep good quality music there."
And that, of course, reawakens the true joy of musical artistry for those fans that thought it was long gone.
Feel like you're drowning in a sea of musical pretenders? Check out McCoury and DelFest. As R&B great Marvin Gaye & Tammi Terrell sang, "Ain't Nothing Like the Real Thing."
Find out more about McCoury and DelFest on Del McCoury's website.