Hot, fresh meme coming through! Presenting: Overly Attached Girlfriend
Here's the long and short of it. Youtube user wzrd0713 originally posted 'JB Fanvideo' in response to a contest that Justin Bieber was running through youtube to help promote his new fragrance, 'Girlfriend'.
Here's the original video for your viewing pleasure.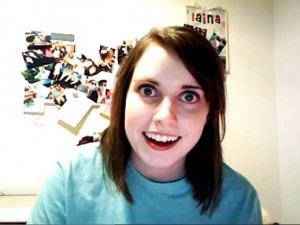 While the strange video, replete with soul-stealing stares and lyrics that could earn restraining orders, could've gone unnoticed, it was eventually discovered and posted to popular imageboard Reddit. From there a still image (pictured right) from the video took on life as the template for the Overly Attached Girlfriend image macro meme.
So we don't know who this girl is, or where the inspiration for her brilliantly creepy lyrics came from. But enough about that! Let's look at some funny pictures courtesy of QuickMeme.

And there's no reason to feel bad for the girl at the center of the Overly Attached Girlfriend meme. She's well aware of her viral fame and is continuing to make videos in character. Here's a fresh Fanvideo of Overly Attached Girlfriend covering Carly Rae Jepsen's "Call Me Maybe." The clip has racked up nearly two million views and it came out yesterday.
Here's hoping that she'll start taking requests.