Chris Young is on fire and that's not just because he's on the Miranda Lambert tour of the same name. Young's 2011 release Neon debuted at No. 4 and his last five singles have gone to No. 1 at country radio while Tomorrow, Voices, and You were certified Gold.
Just before hosting a recent online chat with hundreds of his fans, during which he debuted his video for Neon, the multi-award winner took time to talk a bit about his music, radio requests, and just how fans show their enthusiasm for his music.
OS: This has been quite a year or so for you. Looking at everything, all the songs, all the awards, what has been the best thing so far?
CS: Well, when you are booking [concerts] a year out, that's really nice! I remember a time when we weren't even booking weeks out.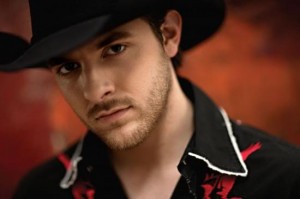 OS: How have things been going on Miranda's On Fire tour?
CY: We have been out with her since January and it has been unreal! She is a sweetheart and one of the best people to tour with. Everything is what is mine is yours.
OS: So what does that allow you to do on stage?
CY: I love to mess with our intros and [the ends of songs] and do covers, and sometimes do a song in a show that is really broken down, have the drummer kick down the brushes and pull the acoustics out and kind of mess with some of our songs.
OS: Is it difficult to choose the songs for your sets?
CY: You always have to have it in the back of your mind that ballads wont' do much for a live show. As much as I just said that, ˜Tomorrow is one of the songs that gets the biggest reaction at our shows. But you have to be able to think in terms of you have this up-tempo party song with a straight-ahead country vibe. It's always fun to watch people sing those live, and it's not always the line you expect them to sing. Like on Get You Home, everyone loves to scream in the middle of the chorus. It's fun to watch that and think about what is coming down.
OS: How do you choose covers to add to your set?
CY: I try to toe the line a little bit more. If you had asked me the same question three or four years ago, I would have said I like something everyone is familiar with. At the same time, everyone and their mothers have covered [The Georgia Satellite's song] Keep Your Hands to Yourself. I have been guilty of playing it myself, at festivals. I've been trying to stretch out a little more with covers, as much as a point this is a song you all know. And that it has meaning to you, too. I love doing [ZZ Top's] Sharp Dressed Man' and then Stevie Wonder's Signed, Sealed Delivered.
OS: That's a fun song!
CY: It is a fun song and lot of fun to sing and a lot of fun to play. It's not very long. I like trying to do stuff like that; trying to do stuff that is cool, that maybe a lot of people are going to know. I like reminding them about the song. It's fun to start playing and look out and see someone realizes what you are playing and then they start freaking out!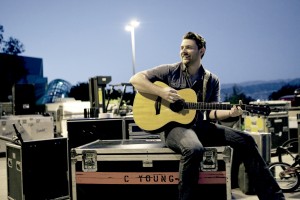 OS: Your fans definitely seem to be very excited about all of your music!
CY: One of the coolest things is seeing fans get genuinely excited. I guess this happens every time an artist puts a single out. It gets to a point that I'm not even saying Hey, the single is out! I know people call [radio stations] and request my songs. Hey, I've called and requested my own songs!
OS: That can't be true!
CY: I absolutely called and requested my own song! I would be driving around Nashville and thinking, Maybe I can hear my song! I'll call! There are these moments for me on Facebook and Twitter and when I am checking my phone where it's fun to see how excited fans are about my music. They are as excited as I am and that's great.
OS: How else do they show their excitement?
CY: Crazy stuff [laughs].
OS: Such as?
CY: I think in the past month I had someone slingshot a thong on stage from the pit. And I've had a lot of bras thrown on stage.
OS: So what's next with your music?
CY: Well the Neon video was just released and I'm sure there will be more [singles] from this album. I have no idea which. It's fun and we are just enjoying this album and working on the next one. And we are booking [shows into] next year!
Find out more about Chris Young, his music, and his tour dates on his website.
Watch Chris Young's video for "Neon:"