Chief Keef has been causing quite the stir.
Just last month, his single, I Don't Like shot up the charts after Kanye West added himself, Big Sean, Pusha T, and Jadakiss to the remix. Within days, a bidding war ensued and the youngster was trying to choose between his three front-runners; YMB, CME, and Atlantic among others.
Now, it looks like the new teen dream has finally chosen a home at a major label, making his announcement last week.
"I've been talkin' to a lot of labels, but I just noticed that Interscope got people like 50, Eminem," he said. "They was talkin' like I was talkin' and I liked that. All these other labels, I was talkin' to 'em, but it's time anyway for me and I'm goin' with Interscope."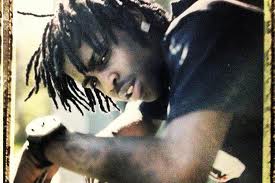 Other interested parties put up a good fight, with heavy hitters like Birdman and T.I. clamoring to sign the sixteen-year-old Chicagoan.  Last month, Birdman sounded confident that he would sign Keef to Cash Money Records.
"I like him, he kinda reminds me of us," he told MTV News. [He's] out the streets, I think he's swagged up and I'm definitely talking to his people and I'd like to see if we can make it pop, see if I can see if I can get him to be down with the team."
Like many others in the rap game, the YMCMG CEO seemed to be impressed by Keef's youthful outlook.
"That's what I like, it's a movement and he's young, I think the game needs young blood all the time," he said. "[We] need youngsters to keep it innovative, because they're new and creative in their own way. I'm into the young world, that's my thing. And I'ma do whatever it takes to make it happen," he said.
T.I. mirrored Birdman's sentiments, noting that what stood out to him about the newbie was his seemingly fresh perspective that Tip says is missing from the rap scene.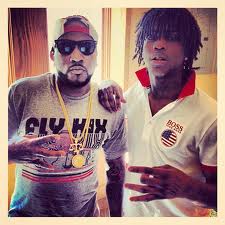 "He represents a part of the youth in America that ain't really got a voice right now. We looking at 'em, and we're seeing the results of their actions, but we ain't really listening to 'em, and I think you gotta have a representative of each generation in order to understand what they dealing with."
Although they didn't end up inking a deal, T.I. says there are no hard feelings.
"The opportunity existed, but I never put my own personal wishes before the best interest of the next person," he said. "I'm just happy that he's able to do whatever's best for him and his family and to move forward as a person and to progress in life. As long as he's doing that, I'm happy," he told MTV News.
Despite some heavy courting from YMCMB, (Drake called him onstage to perform his single during his tourstop in Chicago last week), it seems like Dre may have been the deciding factor.  While his record deal is with Interscope, his publishing deal is with the doctor himself.
And even though this seems like a modern day hip-hop Cinderella story, not everyone is happy about the overnight success brought on by Kanye's remix of Keef's mixtape offering, I Don't Like. The track's original producer, Young Chop was more than a little peeved to be left out of the loop.
I just felt disrespected 'cause I didn't even hear the song before it dropped, and I kept telling them that I wanna hear the song, he told XXL last month. I ain't know the song was changed over like that. Keef explained in another interview [that] we didn't hear the song. And then I'm hearing the song and there's different sounds in the beat, it don't even sound like the real beat. It sounded like a rock star beat, and that's not how I do it. That's not my sound. [Kanye] should have called me and asked me, ˜Ayo Chop, can I do this? Can I do that?' But no. I didn't hear nothing from him. I never talked to him.  He didn't sit at the table and make that beat, Chop said of Kanye. He just coulda asked me. He changed what I put my time into. I made it the way how I made it.