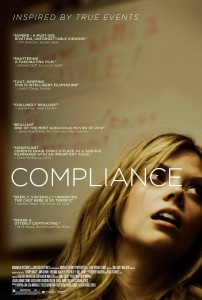 The debut feature film from director Craig Zobel, the thriller Compliance, is coming out later this summer. And while we're big fans of independent cinema, we've got a special reason why we're excited about this movie. Compliance marks a major success for OurStage's Licensing Program, featuring a soundtrack comprised of OurStage artists.
Don't go see Compliance if you're looking for another popcorn movie. Feel good hit of the summer, this is not. The cerebral, challenging movie earned rave reviews when it premiered at this year's Sundance Film Festival. From the movie's synopsis:
Becky and Sandra aren't the best of friends. Sandra is a middle-aged manager at a fast-food restaurant; Becky is a teenaged counter girl who really needs the job. One stressful day (too many customers and too little bacon), a police officer calls, accusing Becky of stealing money from a customer's purse, which she vehemently denies. Sandra, overwhelmed by her managerial responsibilities, complies with the officer's orders to detain Becky. This choice begins a nightmare that tragically blurs the lines between expedience and prudence, legality and reason.
Heavy stuff indeed.
And how to best add to the gritty, realistic atmosphere of the fast food restaurant in which most of the movie takes place? Let's hear from director Craig Zobel.
And if you're curious to hear which OurStage artists made the final cut for the movie, check out this playlist of all the songs by OurStage artists in the movie, including Admiral Twin, Blacklisted Individuals, Jesi Kettering, and many more.
Check out the trailer for Compliance below. The movie is set for release in the U.S. on August 17th.