A lot has been made about EDM's rise to prominence in the U.S., especially by us. Assertions about the genre's popularity were previously observations of the cultural zeitgeist. Beiber going over a "dubstep" beat. Paris Hilton trying"and failing, in spectacular fashion"to DJ. The return of rave culture and all of the wonderful, sweaty gyrations that accompany the scene. In early June, however, there was another metric by which we could measure the success of many of EDM's finest: Cash money.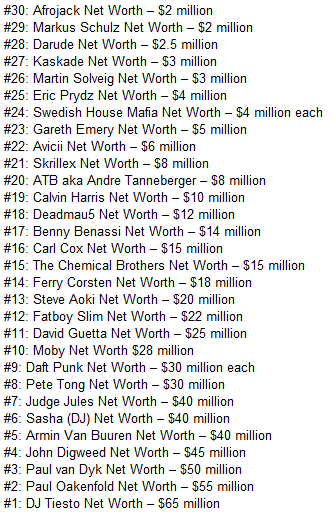 CelebrityNetWorth.com came out with a list of the Top 30 richest DJs in the world earlier in June (seen right). Now, there are a couple of surprises on this list. For example, despite having a hand in producing two of 2011's biggest hits in "Look At Me Now" and "Give Me Everything," Afrojack somehow finds himself at the bottom of this list with a purported net worth of $2 million. Also, the list is lopsided in terms of seniority. The top fifteen earners, from The Chemical Brothers down to Tií«sto at number 1, have mostly been in the game since the '90s, with the arguable exception of David Guetta. The rest, however, are almost all young upstarts like Avicii, Swedish House Mafia, and Skrillex.
This list isn't the full story either. No list of unfeeling numbers can capture the extent of the sweet life that many DJs live. Sure, always being on tour can be tough on one's personal relationships. But these guys (and the list is all male, as it happens) are playing music for a living! The women, drugs, relative fame, and parties aren't bad either.
But with this new information comes new comparisons. Fresh comparisons. Dope comparisons. Swag comparisons. You know where we're going with this.
Forbes releases a number of music-earning lists annually and none carry the same weight as their installments covering the richest and top earning in Hip-Hop. There are two lists reflecting the amount of paper that the biggest in the rap game can throw around; Cash Kings: Hip-Hop's Top Earners and The Forbes Five: Hip-Hop's Wealthiest Artists.
Now The Forbes Five, those guys know how to ball out. Topped by the always entrepreneurial Sean "Puffy" Combs and rounded out by 50 Cent and his millions courtesy of Vitamin Water. A full listing of the Top 5 richest in Hip-Hop can be seen in the video below, via Forbes.
Instead of the Top 5 earners, let's focus more on the list of Hip-Hop Cash Kings. The list, twenty rappers deep, doesn't feature any surprising names. This time, Sean "Jay-Z" Carter tops the list, thanks to his myriad business interests from sport team ownership to his 40/40 chain of clubs. Here's the full list:
1. Shawn Jay-Z Carter, $37 million;
2. Sean Diddy Combs, $35 million;
3. Kanye West, $16 million;
4. Dwayne Lil Wayne Carter, Bryan Birdman Williams, $15 million (tie);
6. Marshall Eminem Mathers, Andre Dr. Dre Young, Calvin Snoop Dogg Broadus, $14 million (tie);
9. Aliuane Akon Thiam, $13 million;
10. Christopher Ludacris Bridges, $12 million;
11. Cameron Wiz Khalifa Thomaz, Aubrey Drake Graham, $11 million (tie);
13. Pharrell Williams, $10 million;
14. Timothy Timbaland Mosley, $7 million;
15. Kasseem Swizz Beatz Dean, Onika Nicki Minaj Maraj, $6.5 million (tie);
17. William Rick Ross Roberts, Curtis 50 Cent Jackson, Armando Pitbull Perez, $6 million (tie);
20. Faheem T-Pain Najm, Bobby B.o.B Simmons, Jr., $5 million (tie)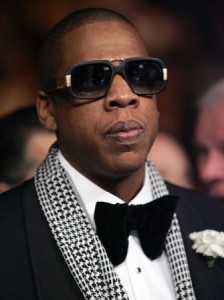 Again, no real surprises. Though it is funny that The Bawse Rick Ross would find himself near the bottom of this list, contrary to his lavish persona. But check out their salaries! The lowest earner on this list, T-Pain, still made more in a year then the bottom seven of the Top 30 richest DJs have made over the course of their entire careers! Jay-Z's estimated net worth of $460 million is greater than the combined net worth of Top 10 DJs in the world.
So what can these EDMers do? How can they compare to the fat stacks of the hip-hop world? The answer is diversify. Some people would be estatic to buy a pair of headphones crafted by some of these sonic architects. Also, have any DJs considered drilling for oil?
Most DJs and producers, save for crossover guys like David Guetta or Steve Aoki, haven't shown the kind of business acumen that has fattened the stacks of many of hip-hop's most wealthy. Until someone in the EDM world can come up with a clothing line (or if Skrillex can copyright and collect royalties whenever someone sports an undercut while wearing thick rimmed glasses), these DJs are going to find themselves on the lower end of the economic totem pole. Relatively speaking, of course.