Here we go again again! Another online article where the subject is Fiona Apple. For the last few weeks, it seems, it's been virtually impossible to turn on the computer without stumbling across a new headline about the 34-year-old singer-songwriter. I can't think of any other musical celebrity this side of Kanye West who, in recent memory, has gotten quite so much mileage out of being both ridiculously talented and endlessly quotable.
And Apple doesn't even tweet (yet)"or date a reality TV star!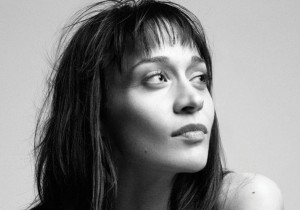 Her musical gift and her gift of gab pretty much ensured that the June 19 release of her fourth album, The Idler Wheel Is Wiser Than the Driver of the Screw and Whipping Cords Will Serve You More Than Ropes Will Ever Do, would arrive with more fanfare than the expected critical gushing. In fact, after one week of release, the new set sold 72,000 copies, good enough for a No. 3 debut on Billboard's Top 200 album chart, immediately making The Idler Wheel… the highest-charting album of Apple's career.
That would be chump change in the coffers of Adele or Lady Gaga, but considering that Apple released her last album, Extraordinary Machine, way back in 2005, before the world had heard of Adele, Gaga, or Katy Perry, and the year in which Rihanna released her debut album, it's as extraordinary as one-half of her last album title.
Factor in that "Every Single Night," the new set's first single, is unlikely to land on Billboard's Hot 100 (indeed the video was slowly inching toward only 300,000 YouTube views"with a whopping 115 dislikes"after two weeks on Apple's channel), and you begin to see the power that tons of good press can still wield.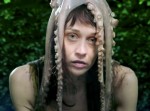 Apple, whom I interviewed for People magazine back when she was 19 going on 30, has always been a rarity in the world of pre-packaged pop stars, an iconoclastic thinker who doesn't hide behind perfectly considered soundbites (that's so Lady Gaga), hollow cliches, or weird just for the sake of being weird. I still shudder when I recall her telling me about being brutally raped at age 12 by a stranger in the laundry room of her New York City apartment building.
Yes, she can be uncomfortably forthcoming: When she talks about her music, it's obvious that she's lived every word of it. And when she concerns herself with other things, she can be a most intriguing eccentric, commanding attention without begging for it.
I'm baffled at this thing that I just got, this e-mail shit, I don't know what these people"are they trying to antagonize me so that I do shit like this, so that I start fights with them? I don't understand why there are pictures of models on a page about me. Who the fuck are they? What? What?
Such unexpected and off-the-wall monologues like the one above, made to the writer of a June 17 New York magazine article, which also revealed that she once dated a fat man specifically to see what that would feel like, make her seem possibly barking mad, while rendering her work even more must-hear.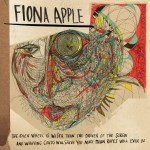 But Apple's return revolves around more than her being an excellent interview. It involves perfect timing and plotting, too, and Apple's marketing/publicity/promotional strategy for The Idler Wheel… seems to have been planned with all of the careful precision of a war-time campaign.
First came the early buzz. In January, Epic Records Chairman and CEO L.A. Reid tweeted that new music from Apple would be forthcoming in 2012. The following month, Apple revealed the word jumble of an album title. In March, she performed several new songs, including the standout album track Anything We Want, at Stubb's Bar-B-Q in Austin during a SXSW showcase. Later in the month, she embarked on mini-U.S. tour, which included a March 26 show at Bowery Ballroom in New York City.
By the week of the album's debut, there were major features in the New York Times and on the NPR website (where the album was also streamed for one week before its release date), trumpeting Apple's return like she was a decorated war hero coming home.
To put the initial performance of The Idler Wheel… further into perspective, consider Apple's challenging music, which, unlike Katy Perry's Teenage Dream: The Complete Confection, doesn't exist strictly to pad her tally of No. 1 singles. Even if you can get past the 23-word album title, the songs within are not the sort of thing you're likely to hear blaring from car radios all summer long. Once you bite into Apple, she's as much an acquired taste as ever, demanding a considerable simmering period before she becomes fully digestible.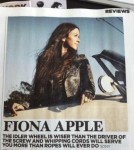 Despite its difficultly"or perhaps partly because of it"The Idler Wheel… has been one of the most rapturously reviewed albums of the year so far. Metacritic gave it a rating of 90 based on 25 reviews (two points more than the reissue of My Bloody Valentine's 1988 landmark Isn't Anything, five more than the Deluxe Edition of Paul and Linda McCartney's 1971 classic Ram, and 10 below Paul Simon's perfect-scoring 25th Anniversary Edition of1986's Graceland). The raves included one in NME that called it endlessly fascinating and unlike anything else you're likely to hear this year, while running an accompanying photo of Alanis Morrissette, which was probably good for a few thousand more shares on Facebook and Twitter.
The result: not only a word-of-mouth hit, but a word-of-reading one, too. Even if there's not a hit single to be found among the 10 songs, The Idler Wheel… just might roll back into the spotlight when the 2013 GRAMMY nominations are announced. The album is almost a shoo-in for an Album of the Year nomination (Apple won Best Female Rock Vocal Performance for Criminal in 1998, and Extraordinary Machine was nominated for Best Pop Vocal Album in 2006), which would mean another round of press domination.
In Apple's case, refreshingly, it wouldn't be mostly hype, little substance. Her latest music provides a worthy soundtrack and companion piece to all of the reading material about it. If this perfect storm of press and performance can help an artist like Apple go platinum while marching and singing to her own piano and drum-driven beat, then there might still be hope for smart women on the cutting edge of pop, after all.