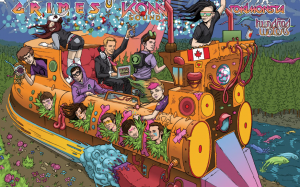 When was the last time you even rode a train? Think about that for a second and then consider the news that Skrillex, Diplo and some of their friends are touring in one?
Indeed, the Full Flex Express Tour is set to take the great white north by storm over the next few days. The six date run is going to hit every major market in Canada, starting in Toronto and wrapping up in Vancouver. The lineup, consisting of Skrillex, Diplo, Pretty Lights, Grimes, Tokimonsta, KOAN Sound, and Hundred Waters, is a stacked mix of the best and weirdest that the EDM scene has to offer. We even came across a computer generated simulation of what the tour will likely sound like.
But the whole train thing? What inspired this ragtag collection of DJs and producers (and Grimes) to traverse the great white north via locomotive?
Apparently the whole thing was Skrillex's idea, and his inspiration came from an unlikely source. "We were really inspired when Mumford & Sons and Edward Sharpe and those guys did a train tour," said Skrillex. "We wanted to do it as well and share this music with people across Canada. Just to do it and have fun." Sure, Mumford & Sons and Edward Sharpe and the Magnetic Zeros are the first contemporary acts to get into touring via train. Their Railroad Revival Tour crossed through much of the southwestern U.S. and it looks like they're going to be doing it all over again this year. Though Mumford does get bonus points for basically playing from the trains. Oh, and their trains were vintage, natch.
But it goes even deeper then that. In an interview with BBC Radio, Ted Dwayne, double bassist for Mumford & Sons, mentioned that the train tour was really the idea of the Edward Sharpe camp who were inspired by the film Festival Express. The documentary, released in 2003, follows the titular tour undertaken by Janis Joplin, The Grateful Dead, The Band, and Delaney & Bonnie & Friends in 1970. The Festival Express also toured across Canada that year, much like the Full Flex Express is doing so this year. Also, Festival Express and Full Flex Express look pretty similar side to side, don't they?
It's fitting that the Full Flex Tour people would borrow heavily from the source material that inspired this rail trip, as it were. Much in the way that those iconic musicians from the hippie era were playing to young crowds and acting as the cultural ambassadors for unorthodox lifestyles, so too are the current crop of artists touring on the Full Flex Express. Though it's unlikely that anybody was rocking out to the Grateful Dead with glow sticks in the 70s. But how awesome would that have been?!
Outside of the whimsy and reverence involved with this musical jaunt through Canada, there are some practical considerations that do make touring by train more appealing. Locomotives are probably more comfortable then the average band's touring bus or, more likely, van. Trains also never have to deal with traffic. Finally, chances are that the artists on the train probably aren't switching off on driving duties.
Perhaps the concept of touring and potentially performing from a train car or station wouldn't be so crazy after all. One wonders if travelling by train is more cost efficient then by bus or by van. Obviously most bands wouldn't be able to afford to buy their own train. If there was some kind of rental service, or in the case of the Full Flex Express, received sponsor support from the company running the rails, VIA Rail Canada. While it seems a bit more far fetched for the stodgy, U.S. government-owned Amtrak would help facilitate a similar tour, one can dream. Perhaps this idea should be revisited when the high speed railroad in California (which was just recently approved) is completed. Then bands could conceivably play multiple dates across most of the west coast. I wonder what The Flaming Lips would think about that.
Check out Skrillex's "Full Flex Express" mix below, via Soundcloud.