Electronic dance music and hip-hop have been the two musical forces occupying the headspace of American listeners in recent months. Both genres have been the soundtrack to many a summer shindig, there's a great deal of crossover between the two respective fandoms for the musical styles, and both cultures surrounding the respective genres share similar interests"like women and drugs and partying"so it would make sense that the two forms would eventually come together.
Hip-hop and electronic music have had a tangled history in the U.K. And we're going to have to turn our sights back onto dubstep, this obscure little genre that you're probably not familiar with. Grime"the precursor to U.K. dubstep and, by extension, the precursor to U.S. dubstep"is a style of music born into the disadvantaged parts of London. As we've mentioned in our discussions of the origins of dubstep before, the genre takes rhythmic elements from rap and dub music and marries them to intense sub bass and slow bpms. From there the minimalist, nuanced genre was pumped full of steroids and shipped off to the U.S., where it has been soundtracking college parties and sporting events ever since.
In a way, hip-hop's origins mirror those of dubstep. Owing much to R&B and funk music of the '70s, rap would become the bare bones sonic representative of city life for African-Americans in the late '80s and early 90s. By the time 2000 rolled around, the genre was dominated by larger-then-life figures who rapped over ostentatious beats made by superstar producers. Hip-hop got bigger and bigger until it couldn't get any larger. Now hip-hop, with no space to grow upwards in popularity is branching out sideways into weirdness. Blog stars and rappers that won't stop tweeting are beginning to dominate headlines. A white girl with a single YouTube video with under 400,000 views can become the subject of intense media attention and scrutiny. So it's no surprise that hip-hop would move laterally to try and accommodate the prevailing electronic sounds of the day.
We've seen some nice hints at a possible genre mash coming from, of all places, pop radio. 2010 saw Swedish House Mafia and Pharrell collaborating as well as the video for Kid Cudi's "Memories" featuring David Guetta dropping the whitest dance moves ever seen in a music video. And now we've come to this:
On one hand, it's an inevtiable development. Skrillex is one of the hottest noise makers in the world at the moment. Wale, on the other hand, is a rapper with uncommon openness to electronic music. This can be seen going all the way back to his 2007 mixtape 100 Miles & Running and a song from said tape, "W.A.L.E.D.A.N.C.E." The song saw Wale going in over "D.A.N.C.E." (get it?), the breakthrough single of French electro duo Justice to thrilling effect.
But this track, while seeing both Wale and Skrillex in fine form, doesn't quite work. The issue isn't the performance of one or the other, it's that the two don't fit together. To further the analogy, imagine Skrillex's brand of dubstep and Wale's rap delivery as two puzzle pieces that only have parts jutting out. There are no spaces between them to let the other piece fit in. Dubstep, at least in its current incarnation, and hip-hop will have a tough time coalescing. How can all but the most powerful and in your face emcees compete with dirty wobbles and the physicality of dubstep?
That's why the future of electronic and hip-hop coming together lies with other EDM genres.  Recently, Porter Robinson predicted in Rolling Stone that trance was going to be the next electronic genre to really hit in the U.S. And what better way to do that through hip-hop? Dipset producer Araabmuzik made a huge splash last year with thirty six minutes of ratchet boom bap and snare hits over a lush foundation of Euro-clubby trance in his debut album Electronic Dream.
Trap, a sub genre of electronic not unlike moombahaton, replete with classic hip-hop sounds at 140 BPMs, is gaining some traction over the internet. Trap hasn't really caught a foothold in the clubs just yet, but there's a chance that it could break bigger thanks to the efforts of artists like Flosstradamus. Their Total Recall EP was likely the first taste that many listeners had of trap electronic.
Total Recall EP by Flosstradamus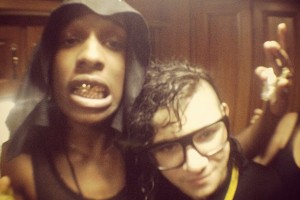 That said, it only looks like the melding of hip-hop and dubstep is just beginning. The image to the left of Skrillex posing with NYC emcee A$AP Rocky is no happy accident. News of a collaboration between the two came to light after Skrillex tweeted the photo of himself hanging out in the studio with Rocky back in June. While the fruits of their labor haven't been released to the general public yet, it'll be interesting to see how Sonny Moore is able to acommodate Rocky's sometimes narcotized flow. Indeed it will be interesting to see how hip-hop and EDM in general will grow and meld together in the coming months and years. Because as obnoxious as dubstep and hip-hop both have the potential to be, at least whatever combination of the two genres can't be as bad as rap rock.