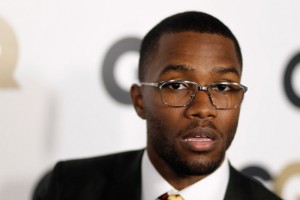 Frank Ocean has been all over the news lately for reasons you're certainly already aware of and are tired of hearing about. But there's one more wrinkle to the story of Ocean and his debut album Channel Orange. We previously covered the surprise iTunes exclusive release of Channel Orange and subsequent retail aftermath. However, Target might not be the only retailer miffed at iTunes swooping in and netting some early sales on a much-hyped release.
Yesterday, Billboard reported that the some sales of Channel Orange through Amazon won't count towards the overall sales figure used to determine placement on Billboard's Top 200 chart. But why is that? In the eyes of Billboard, at least, not all sales are equal.
This is no slight on Ocean: chalk it up to industry politics and changing times. Amazon recently made Channel Orange available and set the price point for the MP3 version of the album at $2.99, far below most competing retailers. Billboard, the curator of the charts, has certain specifications in place that what can constitute an album sale. In recent years, these guidelines have been challenged by different marketing tactics to which the magazine has responded.
In 2011 Lady Gaga earned a #1 chart position for Born This Way, thanks in large part to another Amazon pricing scheme that saw the album retailed for 99 cents. Months later, Billboard changed their guidelines for sales figures, officially stating that only album sales priced at or above $3.49 will be counted towards chart placement. That wasn't the first time Billboard was forced to adjust to unique sales strategies. In 2007, The Eagles earned a controversial #1 charting with Long Road Out of Eden that almost wasn't. The Eagles made their album available exclusively through WalMart, a move which originally didn't conform to Billboard's rule (since revised) that albums needed to be retailed at multiple outlets.
One unnamed industry executive, quoted in Billboard's article, believes that Amazon is trying to send a message to labels and to its competitors. "[Amazon is] punishing the artist and the label in a pretty sneaky and clever way. They are also definitely sending a message to other labels that giving iTunes an exclusive will have consequences." While industry sniping might keep Frank Ocean from netting a #1 debut album, topping out at #2 on your first try isn't bad either.
More like this: