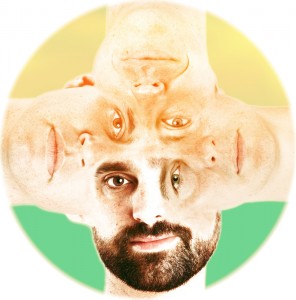 There have been scant details about Animal Collective's ninth studio album, Centipede Hz, since it was announced back in May. There was the "Honeycomb"/"Gotham" single that came out just prior to the album announcement. (Neither one of those songs have appeared in the tracklisting for the new album, by the way.) That psychedelic and grotesque album trailer didn't really say much, either. Well, the Collective, made up of Geologist, Deakin, Avey Tare, and Panda Bear, took a big old info dump all over the Internet this weekend in the form of their new weekly online radio show.
Simply titled "Centipede Radio," the show will feature a new episode every Sunday night. For each episode, a different member of Animal Collective will take the reigns, curating a set consisting of musical curios. During the inaugural broadcast, Panda Bear played tracks from an eclectic mix of artists including Araabmuzik, Madlib, Duck Sauce, Thomas Bangalter of Daft Punk, and also featured contributions of likeminded guest DJs Black Dice and Haunted Graffiti. Panda Bear also took the opportunity to play two previously unheard tracks from his own catalog, "Soft Serve Rip Curl" and "Principe Real."
The first installment of Centipede Radio was also accompanied by the lead off single from Centipede Hz, "Today's Supernatural." The track will be a delight to fans of Strawberry Jam-era Animal Collective, featuring a return of Avey Tare's occasionally artless, occasionally screamed vocals.
The band is also inviting fans to make their own radio set mixes. Five lucky fans will be picked from the pool of submitted mixes and will receive vinyl test pressings of Centipede Hz. If that doesn't get the hipster music nerd inside you all riled up then I don't know what will.
More like this: