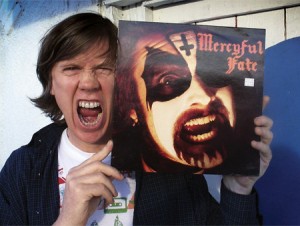 Though Sonic Youth's status as a band is unknown (and let's be fair, the outlook is pretty grim), Thurston Moore has been keeping himself very busy in the meantime with a number of different projects. First, there's Moore's new William S. Borroughs-inspired band Chelsea Light Moving. Moore also did a record with ex-wife Kim Gordon and Yoko Ono, YOKOKIMTHURSTON, that is waiting for a release date. But those musical moves are right in Moore's wheelhouse. Who would've thought that the indie rock icon would go black metal?
That's right, Thurston Moore is the newest member of Twilight, a seven member super group whose current roster includes members of Leviathan, Kreig, and Isis. Blake Judd, a member of Twilight and the frontman of Nachtmystium, noted his excitement in collaborating with Moore during an interview with The 1st Five. "I had Sonic Youth records when I was twelve. And to now know that, not only am I having a dialogue with this person about anything, but dude's gonna join a band I started, and it's like¦whoah," said Judd.
It's hard for any news surrounding Moore to come completely out of left field; the indie rock icon has expressed an appreciation for black metal in the past. "I didn't really start listening to black metal until maybe the last 10 years or something," Moore said in an interview with Decibel Magazine in 2009. "I was into certain things, like the first Burzum record. I remember buying that in Scandinavia after I'd read about it somewhere."
It is unknown at press time if Moore will be donning corpse paint for live performances.
More like this: