Kip Moore's debut title Up All Night, is well named, because the newly minted country star hasn't had much downtime since the album came out this spring. Not only did his single "Somethin' 'Bout a Truck," become a Platinum seller and summertime anthem but his next single "Beer Money," is headed in the same direction. Always a road warrior, Moore has just signed onto Eric Church's Blood, Sweat & Beers Tour and is making plenty of high-profile appearances, too. Recently Moore shared some of his precious downtime telling us about the past few month including the one thing he can't get even though he tries and tries (hint: it's got four wheels).
OS: So what is the story with the truck? Did you get it?
KM: I finally got a new truck! It's great. I was driving around in it yesterday before I left and it's great.
OS: So this is the kind of truck you sang about in "Somethin' 'Bout a Truck?"
KM: No, this is a new one. That was an '86 that I wanted. I still haven't found one of those.
OS: "Beer Money" has been doing well on the radio. Congratulations! You wrote that one, didn't you?
KM: I wrote all the songs on the record and, you know, just growing up in my hometown I just remember feeling that way all that way through college. The whole week was all about savoring what was coming, making just enough money for fun on the weekend. Small town life can be very suppressing for a young person. When you are older and settled down, that life make sense. When you are young, everybody lives for the weekend. It was all about Ramen noodles and we had a case of the cheapest most water downed beer. But it was all great.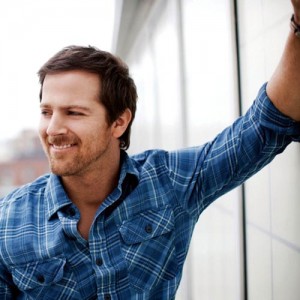 OS: Do you remember writing the song?
KM: Sure, I was at my buddy Blair Daly's house. We were with Troy Verges writing. We had written another song that day. We all got to talking about the concept of money and we got to joking about being in college, saving money, and drinking beer on the weekend. I remember we made beer runs 30 minutes outside the dry county where we lived. So we all started riffing around.
OS: It's always interesting to me to hear how musicians write. Do you have a certain guitar you grab for writing?
KM: I've got nine of them and I have my go to one for sure, an old J45 Gibson. It has just been with me through the trenches. It's got a lot of character to it. I travel and bang it up so much but it is the guitar I grew up with.
OS: I know you performed on the Today show recently. That had to feel a bit surreal, singing to a camera!
KM: It is always different to do those kind of things. I'm not used to those. I'm used to having a crowd jumping around and ready to hear music. Those TV environments are different because there's no audiences. There are a few people in the room, but it just feels a little uneasy for me.
OS: Well I saw your performance and I sure couldn't tell you were uncomfortable.
KM: I am definitely starting to adapt, get comfortable with those kinds of things. I never get nervous when I play anymore. I was working so hard for so many years to get to this point, I figure why the hell be nervous?
OS: So you are joining Eric Church's Blood, Sweat & Beers Tour. Now that will have a lot of hard-charging fans!
KM: Yes, Eric had his eye on my stuff. I am very honored he picked me to come out with him. I respect the way he built his career and went underground. For years and years there was nothing happening and then something started happening. Now he's got these big tours.
OS: I know you and Eric both really let the music do the talking vs. having a lot of stage props and so forth. What led you to stay with that style?
KM: You know, I saw Garth Brooks and he didn't have any props or anything. I mean, does Bruce Springsteen have a lot of props? They just get out there and play their music. I admire that.
OS: So can you share any secrets about what we can expect during your upcoming show on the tour?
KM: Well, I'll be doing "Beer Money," and "Somethin' 'Bout a Truck," but the guys in my band never know what to expect of me. I try to keep myself on my toes so I change stuff night to night. Except for "Truck!" I'm never going to get to leave that one out!
OS: Any cool fan stories to share?
KM: The fans have been amazing. They know the whole record, which is the most humbling part of all of this. The most gratifying part is seeing them showing up in masses.
OS: I bet you receive a lot of gifts and hear stories from them about your music.
KM: I do get a lot of gifts, and I get a lot of stories from people saying how much the music fits into their lives. A mom recently told me she and her daughter finally bonded because of "Somethin' 'Bout a Truck." They would dance around the house when it came on. A lot of people tell me they proposed when "Hey, Pretty Girl," was playing the background. I love [that] they are into what we're doing. That really means everything to me.
Find out more about Kip Moore, his music, and his tour dates on his official website.
Watch Kip Moore's video for his Platinum single "Somethin' Bout a Truck:"