Riffs, Rants and Rumors: Mark Eitzel Won't Be a Stranger

Mark Eitzel is almost pathologically disinclined to talk shit. Even in situations where it might be in his best interest to offer up some sort of self-serving statement, he seems practically honor-bound to push a pin into the balloon. For instance, in analyzing his upcoming release, Don't Be a Stranger, the erstwhile American Music Club singer/songwriter admits his affection for the record but immediately follows up by observing that he usually hates his own albums. It's hard to be subjective about the things you make, he explains. Actually, if I was a real rock person I'd say ˜No, it's fucking great, it fucking rules, it's the best thing the world has ever fucking seen!' That's what I should be saying. ˜This turd I just took is the best thing I've ever done.' I respect people like that; we need them. No, we don't, he recants, they become Presidential candidates.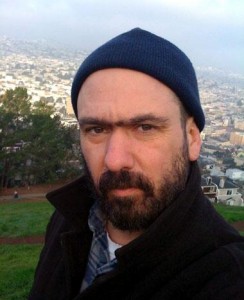 So it's no great surprise to venture into Don't Be a Stranger and encounter songs like Oh Mercy, containing the wry lines I've got party talk for all your party guests/my topics include facism and rising crime/and when I outline the coming doom of the USA, well that'll insure everyone's good time. Despite having earned enough critical plaudits for his songwriting to fill a grain silo, Eitzel is similarly unsparing of himself in looking back at 2009's limited-edition Klamath. I didn't want it to be [a small pressing], he says, but I could only afford to make, like, 500 of them. The album's genesis was me at a friend's place in Happy Camp [Calif.], and it was so beautiful up there. The first piece I wrote was an electronic piece, to the absolute horror of my fans, but I really love electronic music, even though I'm no good at it. I wrote this electronic piece about a tree, and it started from there. At the mention of his earlier electronic-oriented album, 2001's The Invisible Man, Eitzel says, That was another mistake. I've done a lot of electronic music but I stopped because the people who buy my records hate it with every fiber of their being. But I still make it for myself. I'm a songwriter, you know"I get booked at Americana festivals [laughs]."
Over the last few years, Eitzel has endured everything from a heart attack to the second dissolution of American Music Club, the ˜90s alt-rock underground heroes who split in ˜94 and reunited a decade later. But his persistent muse moved him to find an outlet for his latest batch of songs nonetheless. I went to poor long-suffering Laura [Balance] and Mac [McCaughan, founders of Merge Records] with my horrible demos. I think Laura's reply was [pityingly] ˜Oh, Mark. Really?' Finally we got some money from a friend of my manager's who won the lottery [he's not kidding]. He loaned us some money [to record]. And Merge liked it, God bless them, and they put it out.
It's fortunate for longtime Eitzel/AMC fans that the songs found a home. Between a subtly nuanced production"featuring contributions by top-shelf players like Elvis Costello & The Attractions drummer Pete Thomas and jazz pianist Larry Goldings"and the quietly incisive songwriting, Don't Be a Stranger is Eitzel's strongest solo outing in well over a decade. In place of American Music Club's tendencies towards expressionist angst over art-garage guitar clamor, we get muted, meditative arrangements and carefully moderated vocal tones that have more in common with Scott Walker than anything from the ˜90s indie-rock realm.
When I like stuff, I listen to it and I walk around, says Eitzel. I put on headphones and I just wander. That's kind of how I'm writing music now"so people can put on headphones and listen. Is that weird?