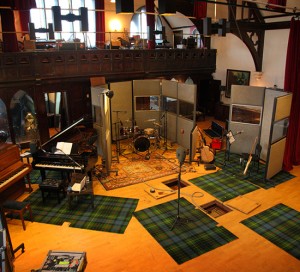 The Church Studios is a storied recording facility in London's delightfully named Crouch End neighborhood. Housed in a gothic chapel, the studio has hosted sessions for Bob Dylan, Radiohead, and Elvis Costello, amongst others. However, the studio's days may be numbered.
According to the Evening Standard, current owner and UK pop singer David Gray is looking to divest himself of the property or have most or all of the site converted into "flats." "David would be delighted to sell the Church Studios," noted a spokesperson for the singer. "But given the current upheaval in the music business and the repercussions on commercial recording studios, it is only prudent to explore other avenues, including redevelopment."
Gray cannot be faulted for his financial prudence. Dave Stewart, guitarist for The Eurythmics and the man who originally converted the chapel in the 1980s, mentioned that it had always operated at a loss. (It's worth noting that he bears no ill will toward Gray for his decision.)
The predicament of Church Studios is not an isolated incident, either; studio closures have become commonplace over the past few years thanks to the dark outlook of the music industry at large and improvements in home recording technology. This hasn't stopped community outcry against the possible cultural losses involved. "This will have a significant effect on the vitality of the local arts scene and the character of the area," said local resident Steve Watson.
More like this: