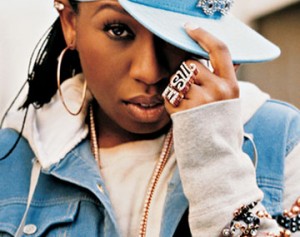 I hope you didn't forget how to work it. Or put your thing down, flip it, and reverse it, for that matter.
Beloved hip-hop songstress Missy Elliott is slated to make a return to the pop landscape over labor day weekend with the release of two new singles, "9th Inning" and "Triple Threat." While Elliott has performed the tracks live in the past few months, their commercial release marks the first new music in over four years from the performer born Melissa Arentt Elliot.
If these tracks are anywhere close to the quality of past singles such as "Work It," "Lose Control," or "Get Ur Freak On," then we're looking at the comeback story of the year, ya'll.
Elliott had spent much of the late Aughts sidelined by symptoms of Graves disease, an autoimmune disorder whose symptoms were so severe that she was at times unable to lift a pen to write. Elliott appeared to be well enough to perform live earlier this year and rumors of her return have been flying ever since.
Word of the new singles initially came from Timbaland, who tweeted, "oh snapp yall my sista @MissyElliott is droppin her singles #9thinning and #triplethreat labor day weekend. watch it world we backk!!!" The singles, to be featured on Elliott's 7th studio album Block Party, aren't the only things that she has been working on in 2012; she's also slated to appear on the posthumous Aaliyah record Drake is helping to release later this year. It's fitting that Elliott is coming back now. She was an innovator and an oddball in the mainstream during her prime years. But in 2012 the rap game has never been weirder. Considering that Elliott's last album, The Cookbook, came out in 2005, by my calculations it took the music world about seven years to catch up with her.
Welcome back, Missy Elliott. We missed you.
Check out some clips of Missy Elliott's new songs below.
More like this: