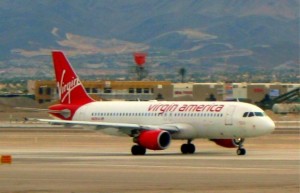 Multi-week festivals in picturesque locales? Yawn. Musical extravaganzas from the luxury of a cruise ship? Um, like, hello, that's so last year. Everyone knows that airborne shows are the hottest thing right now in live music.
Say whaa?
Yes, music festivals are about to break new ground, so to speak. The people over at FILTER Magazine and Virgin Airlines have teamed up to bring bi-coastal music lovers the apex of pre-festival travel arrangements: the "I'm With The Band" cross country flight.
The cross-country flight from NYC to LA will bring attendees to the Culture Collide Festival in musical style; the trip will feature performances in the plane with DJ sets from School of Seven Bells and Kevin Barnes of of Montreal fame with an acoustic set from Penguin Prison. And of course, when you land, you'll presumably be headed to the Culture Collide Festival, which starts the next day.
So there you go. It's doubtful that any tie-in festival-related travel arrangements surpass this until Coachella decides to expand into extraterrestrial markets. Imagine watching your favorite band playing in zero gravity while you fly out to MoonFest 2078. Will there still be hipsters in 2078?
You can pick up tickets for the flight here. Culture Collide Festival, which will include performances from of Montreal, The Wombats, Class Actress, Laetitia Sadier, Diiv, John Talabot, and many more, starts October 4th. Tickets are available here.
More like this: