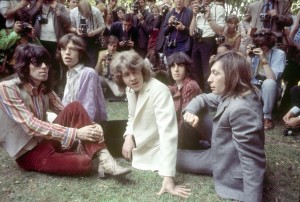 Storied british rock band The Rolling Stones announced a new band doc, Crossfire Hurricane, earlier today. The tour doc, commemorating the 50th anniversary of The Stones as a performing unit, marks another authorized entry into the already deep documentary videography that The Stones have amassed over the years. Classic rock nerds will also note that the film pulls its title from a lyric in "Jumpin Jack Flash."
Crossfire Hurricane appears to be pretty broad in focus, covering the trajectory of the group from their earliest touring days in 1962 to the band as we know them as today.
The real selling point of the doc is probably going to be the access. According to the press release for the film, Crossfire Hurricane will be the, "backstage pass to outdo them all." The film promises rare and never-before-seen footage from famed and infamous gigs at Altamont, Hyde Park, and others along with band interviews regarding their rock and roll lifestyles. The press release also promises focus on the Mick Jagger/ Keith Richards writing partnership and how their sometimes mercurial relationship produced some classic tracks.
Crossfire Hurricane will receive a theatrical debut in the UK in October with a television premiere on HBO and BBC 2 some time later this year.
More like this: