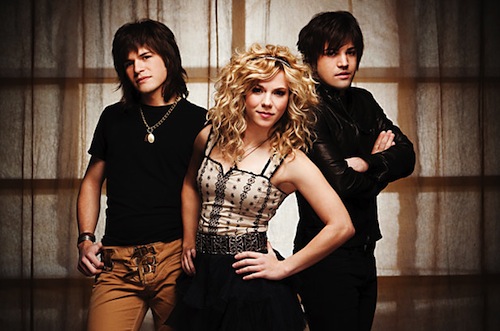 The Band Perry is out to prove there's a lot more to them than their chart-topping single "If I Die Young."
The Alabama-born, Tennessee-based trio of siblings saw that song zoom to #1 on the country charts after it was released as a single from the band's 2010 self-titled debut album. Although the song didn't win a GRAMMY, the band still netted two of the coveted trophies and a host of other awards.
But now the real work begins as Kimberly, Neil, and Reid Perry hunker down with super-producer Rick Rubin to craft their sophomore album. The trio is also burning up the highways as it plays concerts throughout the U.S. including on Brad Paisley's Virtual Reality Tour.
So just how is The Band Perry planning to keep the career momentum going? Recently the siblings took time out to talk about just that.
OS: We're hearing a lot of great things about your next album. Rick Rubin is producing it, correct?
KP: He is producing it. We are about 80 percent finished recording it, but we still have some work to do. But I can tell you that we are looking forward to having a brand new single out this year on the radio. It is so exciting.
OS: So what details can you tell us about it?
KP: Unfortunately, those are still top secret. But I can assure you that it will be worth the wait.
OS: You've been touring quite a bit lately. Tell us about the best part.
KP: Being on the Brad Paisley Virtual Reality Tour has been just a blast. We have been on the road with him, my gosh, I guess since January. We keep saying backstage is like summer camp all the time. Brad is just a great guy. Onstage, there is just so much variety. It's been really unique and it's just a blast of a show.
OS: What is something about Brad Paisley that most people might not know?
KP: He is the best party thrower. He has arranged everything [for those that tour with him] from midnight petting zoos to 1 a.m. go-kart races. And he rented out a movie theatre and we had a private screening of The Avengers. So I would say he is a great host but also a notorious prankster. However, there is one person in the Brad Paisley camp you can bribe with cupcakes, anything sweet, to get information about what he plans.
RP: This person is very close to Brad. It may be his father!
OS: You have all kinds of great reviews about your shows and your music, but what rumors do you want to address? Set the record straight.
KP: We try not to read too many things. It's good to hear you say we have had great reviews! I know not too long ago that there was a rumor that Reid and Adele were dating. I loved that one. I said to Neil, "How can we continue to spread that rumor?"
RP: One instance that could have turned into a rumor was on the radio. Someone said, "So, Kimberly, which of the two boys did you date first?" And we thought it was a hillbilly joke at first.
KP: We were like "What exactly is going on?" So, yes, that is my favorite of the last month or so!
OS: You've each said you aren't romantically involved with anyone. Who are your celebrity crushes?
KP: Mine is always Ryan Gosling. I cannot overstate that.
RP: I like athletes, volleyball players, soccer players.
NP: For me, it's Beyoncé.
OS: Whenever I watch award shows, I always wonder what you're thinking about when the cameras are panning.
NP: We are making sure that nothing is on our faces! You never want the camera to see that!
KP: We are all very aware. You know we call it the artists' pit, where the artists sit during these shows. When the cameras pan, it's kind of nerve wracking. You never know what they're going to pick up. But, you know, we have had such an amazing opportunity from country music fans, really from all music fans, to go to these shows and be nominated. It's really a thrill every time that happens and we're just so grateful to even be there and be watching from the seat not just the television set.
OS: You're not ready to talk about your next album, but I have read that you say it's a bit different than the first one. Can you tell us just a bit more about how it's different?
KP: Our first album had three different producers. We were really experimenting with different ways to work in the studio and processes with which we felt comfortable. So one thing in particular on the second album is that we have one producer. And the process for recording each song was one in which we were comfortable. I just feel that we figured a lot out. It's probably even more true that this time, the three of us wrote what we love to sing and how we love to play than even our first record.
OS: As you look at the year ahead, what is your focus?
KP: Just like a sports team, we review game tapes. We are constantly making tweaks to things as small as facial expression and silhouettes when the three of us are beginning a song. So over the next year it's our goal to figure out how to graduate from opening acts to headliners. We're going to have more familiar songs at the end of next year than we do this year. So really really working that show is the goal of ours.
OS: How do you stay as down-to-earth as you do with all the media and fan attention on you?
KP: Our mother travels with us everywhere we go. She is the band coach so she is watching not just the things that happen onstage but the things that happen offstage . She is our secret weapon.
Find out more about The Band Perry on the group's official website.
More like this: