In a scene where bands can easily cling too tightly to restrictive genre conventions, Massachusetts pop punks A Loss For Words stand out as a group who aren't afraid to take chances. Known for delivering tuneful, aggressive pop punk, they have also taken detours into acoustic EPs and even released an album of Motown cover songs in 2010. Upon the release of AL4W's most recent acoustic EP, Returning To Webster Lake, singer Matty Arsenault sat down with us to talk collaborations, covers, and the status of his R&B side project.
OS: There's a video floating around of a guy proposing to his girlfriend during one of your Warped Tour sets. How did that whole thing come about?
MA: Our drummer, Christian, met the kid when he was in a band called I Call Fives.  He stayed in touch, was a fan of our band, and wanted to do something special.  He talked to Chris and we OK'd [it].  It's pretty hard to say no to something like that….
OS: You guys have had a really busy last year. No Sanctuary came out, you've toured a lot, and you've finally released a new acoustic EP. How does it feel to have the followup to your first acoustic EP Webster Lake finally out there?
MA: When we started this band over a decade ago, we were never planning on being an acoustic band. But we were trying to buy some time before The Kids Can't Lose record came out and we recorded Webster Lake and got a great reception to it. "Wrightsville Beach" was originally on Webster Lake and it got so popular that we decided to put it on No Sanctuary. We realized that kids were really digging the acoustic stuff, like "Mount St. Joseph," from The Kids Can't Lose is one of our most popular, most downloaded songs. So we thought we'd do another acoustic EP before we went on Warped Tour this summer and do the acoustic stage so we had more acoustic stuff to play.
OS: So was the reason behind calling it Returning To Webster Lake just in reference to the first EP, or was there more meaning to that title?
MA: Yeah, obviously because they were both acoustic EPs that had things in common. But also because we recorded it with our friend Chris Curran, who we've been recording with over the years. We named the studio Webster Lake years ago. So there's the acoustic thing, but also that too. This is kind of like going back to that studio, and going back to the same lake house where we recorded the Motown record and the other acoustic stuff. It made sense to call it Returning To Webster Lake because those albums were kind of connected together.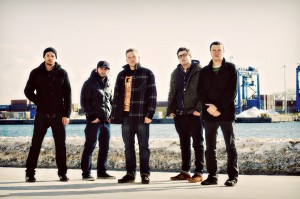 OS: Was the mentality of recording at the lake house any different than working in a regular studio?
MA: Oh, absolutely. First off, Chris is a good friend of ours. He's been in different bands that we've played with over the years. The vibe at the lake house is really good, and we work so well with Chris. At the end of the day, we'd just go grab some beers and sit on the dock and chill out. It was real calm.
OS: You guys cover the Acceptance song "So Contagious" on the EP, and you've stated that you're a big fan of their 2005 album Phantoms. What drew you to covering that song in particular?
MA: It has a cool acoustic vibe to it. All of the songs on that record are awesome. Phantoms is, as a whole, our band's favorite record front to back. We listen to it all the time. It just made sense, and we're super stoked that we got to do it. It was pretty cool because the singer actually tweeted at us when it was released, and he watched us when we played the last day of Warped Tour. That was really rad, 'cause he's a dude that I look up to vocally. It was really cool that he came and checked us out.
OS: You also have a few feature spots on the EP (Tay Jardine, Evan Pharmakis). How did you decide to team up with them?
MA: Evan was actually in the studio because he records with Chris. Chris played guitar in his solo project. He was recording his stuff too, and we were kind of taking turns. We just asked him to do it. We've been friends with that dude forever, and we obviously grew up with Vanna [Pharmakis' old band]. He was like, "Yeah, I'd be honored to do that song," so we just shared what we had. With Tay, we had done the Very GK! Holiday Festival last year and became really good friends with We Are The In Crowd. We hit off with them and we hadn't had a girl sing on our records before, so we decided to have her come in, and she just killed it. She did an awesome job, and I think we gained a lot of fans from when she posted about it. I saw a few We Are The In Crowd fans coming to our acoustic set and checking it out. It's cool to branch out and do stuff with people you wouldn't normally collaborate with.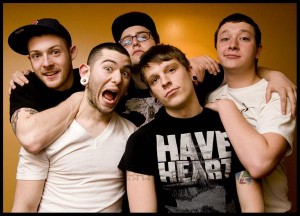 OS: Are there any other bands that you're into now that you'd want to collaborate with in the future?
MA: I'd say Bad Rabbits. We're friends with those guys too, but I just love R&B. It would be cool to have them do something on one of our records. Something cool like and different like that.
OS: Speaking of R&B, you've also got the Miguel and J. Cole tune on there ["All I Want Is You"]¦
MA: Oh, yeah. I was stoked that our guitar player let me do that 'cause he likes it, but it's not really his thing. He was like, "Let's do a No Use For A Name cover for me, we can do a R&B cover for you." I mean, I love No Use For A Name too, 'cause I grew up on that stuff, but I'd always wanted to do an R&B cover. It was good. That's the thing about me and Marc when we do anything; we just have fun with it.
OS: You were supposedly working on similar material earlier in the year for your R&B side project. How is that coming?
MA: Everything's going good with it. I have three songs done and I'm going to do two more songs in the next few weeks with the drummer of Bad Rabbits. I'm hoping to release it in November or sometime around then. I got the OK from the label to put it out, but I'm just waiting for the right time to do it. I don't want to rush it too much. It's gonna be all originals. I think the stuff I'm doing with Sheel from Bad Rabbits will be really different from what I've already done. The stuff I did with Chris has more of a Justin Bieber pop/R&B feel. One song is kind of like Ginuwine, and the other song is kind of like clubby Ne-Yo type song. The stuff I do with Sheel will be more like Miguel, more like The Weeknd and Frank Ocean. It'll have that new retro R&B feel.
OS: Are you going to put it out through R&B media channels, or through the connections you have with A Loss For Words?
MA: I think I'm going to use my A Loss For Words network to branch out. Also Absolutepunk and stuff like that. But I'm also going to talk to some underground rappers that I know and see what underground sites I can post it up on. I just want it to be its own thing. I mean, obviously people associate it with Matty from A Loss For Words, but I want kids to think of it with an open mind. I'm just doing something that I like that isn't trying to be pop punk, and is actually a whole different genre. There'll still be a lot of kids talking shit, 'cause that's just how this generation is, but I just hope that kids know that it's something that I've always wanted to do and I'm only doing it because I have a passion for R&B music. Anybody who knows our band and knows me personally knows that's the case.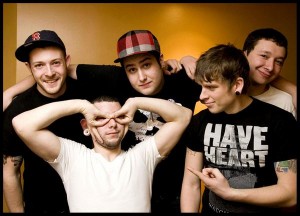 OS: You guys have been around for over ten years now, but have only recently had label backing. What advice would you give to similar bands who are taking the d.i.y. route?
MA: I think it really starts with having fun with what you do and doing it for the right reasons. When we started this band, we didn't think we were going to be a huge band. It wasn't like that. We just had fun. We started touring 'cause we liked it, even though we lost a lot of money. We just kept going, and then we realized that kids actually liked our band we kept growing. We decided to keep going for it, do it on our own, and not let anybody bring us down. It's been working out. It obviously took us over a decade to be where we want to be, but we're here now. We have great people behind us: Dave Shapiro, Craig and the Rise family. We have a good group of people who all have the best interest for our band, which is making it easier. We're still suffering from a little debt from the past, 'cause we did it all on our own. You just have to get out there, go to other shows, pass out demos, meet other bands, support other bands, and talk to the kids. Just keep doing what you do and stay humble.
Check out A Loss For Words' cover of Miguel's "All I Want Is You" below, and pick up the album now on iTunes.