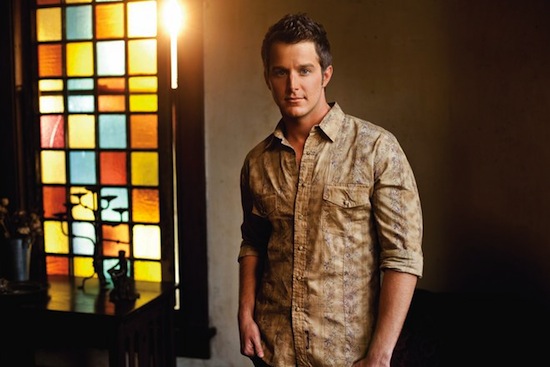 Easton Corbin's recently released sophomore album All Over The Road proves that the "A Little More Country Than That" artist is poised to release even more hits.
Consider his new singles "Lovin' You Is Fun," written by Nashville songwriters Bob DiPiro and Jim Beavers, that is quickly climbing the charts. It's just more evidence that Corbin still has plenty of fun-filled music to bring to his fans.
˜All Over the Road' is a fun title, said Easton of choosing the title of the new album. but it's also actually what we're doing out there. We're all over the road trying to get music out to everybody, so I just thought it made sense.
But don't think that Easton's music is country pop. Indeed, the music from the Gilchrist County, Fla. native, who's self-titled 2010 debut album spawned back-to-back No. 1 hits, has been compared to that of such country legends as George Jones, Keith Whitley, and Merle Haggard. In fact, Corbin's "A Little More Country Than That," and "Roll With It," made him the first male country artist in 17 years to have two consecutive singles hit the top spot.
Perhaps it's not surprising that Corbin also snagged all of the Breakthrough Artist awards at the inaugural American Country Awards in 2010"Artist of the Year: Breakthrough Artist, Single of the Year: Breakthrough Artist, and Music Video: Breakthrough Artist for A Little More Country Than That. Little wonder his new album is already gaining critical and popular acclaim.
Corbin took time out just after finishing Brad Paisley's Virtual Reality Tour to talk to OurStage about his music, his music, fans, and just where he's going from here.
OS: A lot of artists are very concerned about recording all of the songs they have written, yet you are very open to recording other people's songs.
EC: I think it comes down to recording great music. I think this record shows a little growth as a new artist, but it still has that recognizable country sound. But it definitely goes places that are new for me.
OS: Is there one song that you think really sums up that growth?
EC: That's especially true on "Are You with Me." That is just a great song that is very country but also clearly captures my style. As soon as I heard that song, I made a connection with it. It's all about being in that place where you are so passionate, so adverturesome, and so in the moment. It was written by Stephen Shepherd. Those [Nashville songwriters] have been writing a long time and I'd be crazy not to take advantage of it.
OS: Tell us about a song on this album you wrote. How did it come about?
EC: I co-wrote "A Thing for You."  The cool thing about that song is that it's very simple. It's not overstated. It just states things that are true and [enjoyable] like the sky is blue, girl I got a thing for you. It's really important to feel a personal connection to the songs. Even if you don't write them, there has to be a personal connection.
OS: How did that song come about?
EC: I was in the office with Carson Chamberlain and Tony Lane. You never know in the songwriting process where the ideas will come from. Sometimes they start with a melody, sometimes maybe somebody has an idea. Just a sentence or a phrase sometimes starts a song. For this, Tony said he he kind of had an idea and mentioned it and we started throwing some words around. Before you knew it, we were done. We had it finished that day!
OS: It's always difficult to put out new albums, I understand, because some fans are resistant to change. How are your fans reacting to your new songs?
EC: We are getting a lot of really positive fan reaction. It has all been good. The fans really love what we are doing. Touring with Brad and The Band Perry has been great. We all have musical styles that are different, so they get a lot of variety.
OS: Touring with someone like Brad Paisley has to be a real learning experience. What have you taken away from touring with him?
EC: I think you learn a lot from those guys that have been doing it a long time. I've learned a lot about how to entertain a crowd, how to [react] when things go wrong in a show. How to just keep going and make the most of it.
OS: So when we talk again in six months or a year, what will be the big Easton Corbin news?
EC: I hope I am talking to you about a No. 1 record. Oh no! I hope I didn't jinx it!
Find out more about Easton Corbin and his music on his official website.
Watch Easton Corbin's video for 'Lovin' You is Fun'