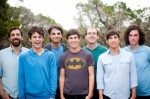 In their latest signing, Hopeless Records have welcomed Driver Friendly to the roster. With a fresh, lively sound, Driver Friendly goes past the average pop-punk expectations with incorporation of both trumpet and trombone, proving for some much needed diversity in this oversaturated market.
This is the band's second brush with fame, after receiving extreme praise for their music video, Messidona which features scenes inspired by several Tom Hanks movies. After catching wind of the video, Tom Hanks himself tweeted about it, calling it, one snappy record. We couldn't agree more.
Check out the band's official welcome video right here, and the video that made waves, Messidona, here.
If you like Driver Friendly check out OurStage artist Clear For Takeoff.
More Like This: